I don't know about you, but, in my experience, art has hardly ever been encouraged…! Considered something to do in your spare time, if you ever had spare time… a hobby at best.
My creativity was quashed for a long long time, but I found my way back to it recently, and now I'm making up for lost time.
I love art of any kind, but there's something extra special about painting with hot fluid wax…
Hi, my name is Julie. I'm an artist and the instigator of Arty Heaven, which started out as Julie Ann's Gallery, so yes, if you're wondering, you're in the right place!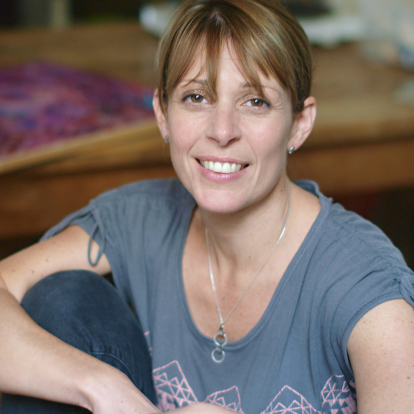 I paint with beeswax, also known as encaustic wax painting.  I show you how to get inspired and creative, whether a complete beginner, seasoned artist, or simply looking for art to bring your walls to life.
How many times I've heard people say they attended an art class, but didn't like it, the tutor made them feel bad, criticized them, had no structure, or even made them cry…!   In my view, that is NOT what an art class should be like… Art should be a therapeutic experience, something to be enjoyed, to leave saying WOW… I LOVED THAT… When can I go back…?!!  
I am a self taught artist who paints with beeswax, I love to share these unusual techniques with people.  Watching people experience the joy of what I have just taught them makes me come alive, and that's where the inspiration, creativity and joy really starts…   I run workshops from my studio in Sarratt, in Hertfordshire.
Not having the art degree background, means I don't 'claim to teach art', however, I teach encaustic wax techniques, and I know how to put people at ease, encourage them and to really help their creativity flow…  
I help people go from "I can't draw a straight line, to WOW!!! I did THAT…!"  I show you how to paint with heated tools, and beeswax.  Pure therapy.  Anyone can do this.   Even You.   Create artwork that you will love to look at again and again.
I started sharing my art at local events and Open Studios, and found that people were as intrigued about encaustic wax as I was, and wanted to know more.  Over time, I began sharing the techniques, and it has grown into running classes, demos and workshops for Art and Beekeeping Clubs, in some amazing locations.
If you can't make it to a real life workshop or talk, I've created a series of online courses and videos to share, so it doesn't matter where in the world you are based, anybody can do this, whether you are working at your own pace from home, with no idea how to start, looking to expand your art practice, or you're an art club wanting to try some new techniques, there's a wax solution for you.
So, how did I get here…?
After never putting a pencil down as a child, and being encouraged to take cookery, over art, at school, (far more practical!) – I only started drawing and painting again in January 2011.  Encouraged at a local untutored art group, I started to look forward to those Friday mornings all week, every week!  In September that year, I was selected as one of 80 artists to work on a project at Tate Modern, and that was it… It gave me the confidence to pursue a dream of working in the arts somehow. Something that had seemed impossible before that point.
A series of events and turning points followed; key people, conversations, new directions, soul searching, and teachings, the journey has been like following clues on a treasure hunt at times!
I believe we all need art in our lives, and my mission is to share it, whether through encouragement, sharing techniques, or simply viewing beautiful art.
So, if you don't have an iron and some wax to hand, simply get a biro, and the back of an envelope.    Or keep scrolling through the options below, and lets see if we can get you inspired…!
Just to add, this business is me, plus a couple of occasional helpers, I don't have a big logistics infrastructure, I offer encaustic wax supplies as a service to others, as they are so tricky to come by in the UK, and I recall the frustration of not being able to source sensible supplies only too well.
I will get to orders, and requests as quickly as possible, but please bear in mind that if I am running workshops, or doing exhibitions, or running my children to football, my responses might not be immediate!
WANT TO KNOW MORE?
WORKSHOPS & DEMOS
Learn how to paint with wax. Go here to find videos, online workshops, freebies, inspiration, and info on art club talks.
BUY WAX SUPPLIES
We supply LOTS of encaustic wax supplies, a bit like gold dust here in the UK… Explore and be like a kid in a candy (wax) store.
JULIE ANN'S ART
Arty Heaven is run by Julie Ann, her passion is painting, inspiring and encouraging others, click here to view and buy her art.
 Some Other Things About Me
1. I have big plans...
My ultimate dream is to run an art retreat centre.
I'm working on that…!
2. I am a bit obsessed with wax...
I'm fascinated by the history of Encaustic Art dating back 2,000 years, I have spent time at the Ashmolean Museum in Oxford, and Petrie Museum in London studying Fayum Portraits, and have plans to do lots more research to add to this foundation.
3. I am guided by inspiration....
Don't ask me to sit down and paint an XYZ…!   I have to paint when inspiration strikes…  some of my best work does come out during some form of structure, but it's very intuitive, I rarely create work purely to 'sell', I just create, knowing the right person will find their right piece of work when they need to.   I love it when a person says "It just spoke to me…"
4. I am learning to sing...
Cover your ears…. I'm pretty rubbish at it, but you'll often find me humming away in my own little world when I'm lost in a painting, or on a Thursday night in the back row with the naughty gang at our local Glee Club…!   I didn't say I could sing, but I'm having fun learning it (I say that very loosely!)
 Want to try this, but don't know where to start…? 
Click below to grab a free video with an overview on where to start, and a few tips and tricks to get you on your way.