Free Online Encaustic Wax Workshops using the Iron and Stylus…
Did you see the free five day online workshop I've been running this week over on my Facebook Page?  Maybe you caught it on YouTube…?
I've created this blog to pull all the information into one convenient place for you…  It's yours, for free, gratis, to enjoy… I hope you find it helpful…
DAY ONE:  Making Christmas Cards with stamps, and wax and an iron… it's easy, ANYONE can do this, especially people who claim they can't draw a straight line!! 😉
DAY TWO: We talk a little bit about the differences of Arts Encaustic Waxes, versus R&F Style Wax and Dammar based encaustics.   Do a little more iron work, then we introduce the stylus.
DAY THREE: Explaining a little more the differences between Arts Encaustic versus Wax and Dammar types of wax. Different stylus attachments.   We make another style of greetings card.  Then talk about who this kind of wax painting is for (clue… ANYBODY who's old enough and safe to operate a heated tool!).   It is so therapeutic, and I share some stories around that.
DAY FOUR:  Using the iron as a mini hotplate. Talking about the heat thermometer and how to adjust that.   Different tools and ways to apply and manipulate the wax.  So satisfying to watch, even more so to actually apply it!
DAY FIVE: More iron hotplate work, mixing colours.  Different ways to edge your encaustic pictures to create interesting designs.    How I can help you if you want to take this encaustic wax workshop further.
People have said they got so much value from these free five day workshops…. Honestly, if you have learnt a lot from this free five day course, there is a whole lot more content inside my other online courses…   This is really is scratching the top of the surface of what we will cover!
To take these free courses further, and to save you money, I have created an amazing offer for you…
(If you've watched all of the videos, I just want to explain, I've simplified matters…  there is just ONE course bundle now.   I've added the option to purchase products from inside the online course platform, so there's only one link from here on….)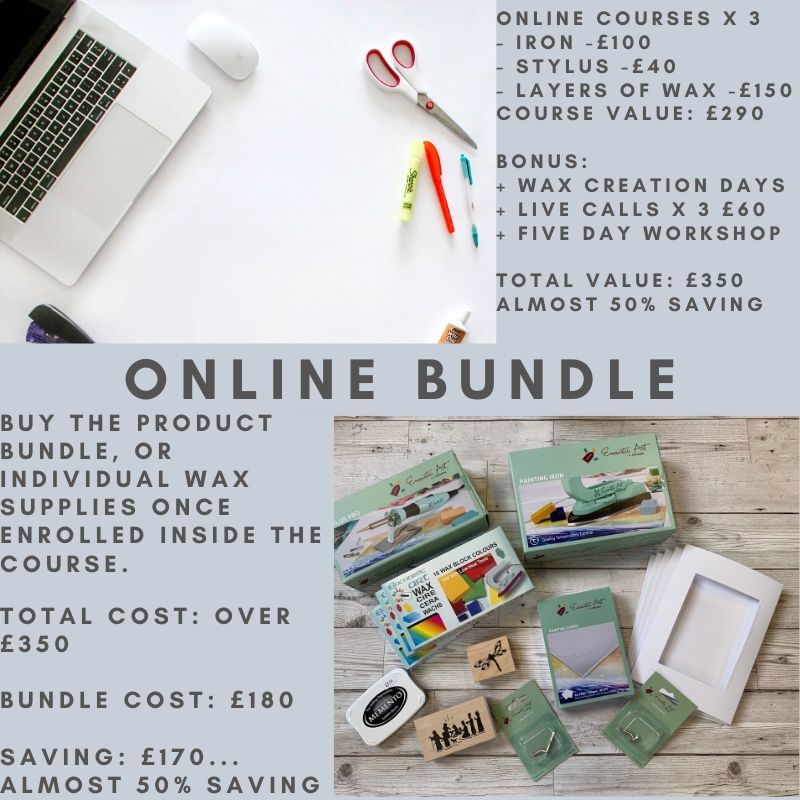 I have spent thousands and thousands of pounds, over many years learning these encaustic skills…. I've consolidated that learning into these easy to follow step by step videos and on online courses…
Your chance to short cut, and benefit from my learnings, for only £180… until Friday 13th December…. after that, it goes back up to the full price.
Click here to see full details.  
There are accountability calls, and other bonuses to inspire you, and make sure you start the new decade actually creating, not letting your art supplies sit in a cupboard unopened!  (We've all done that!)
This entire bundle offer expires on Friday 13th December at midnight, after which the courses will go back to full individual pricing.   If you have found this content helpful, please do share amongst your encaustic friends.
I refer to a couple of blogs and peoples stories in these videos, so I attach them here… I hope they inspire you…
My Father-In-Law's Story…
A reminder not to take things for granted, to go and do what you love to do… whether that's encaustic waxing, playing the trombone, or repairing cars… don't assume you can do it tomorrow.
A Year Ago Today, and I was left wondering if I'd ever paint again….
Isabelle and Ava's story… (I hope the whole thread has copied across, not just one picture) Scroll through and read the comments, you will see their winning pictures from the school competition…
I'm so fond of these two young ladies… they caught the encaustic bug years ago, and have been on workshops and worked through my 'paint with an iron' online course at home. They encapsulate everything that's fantastic about encaustic… and this just sums up exactly what I see during all of these workshops… pure joy!
Monthly accountability and wax nights… We do them on the first Wednesday of every month, it's always a lot of fun… I want you to do something similar at home, either just to make the time yourself, or get together with your Mum, or Nan, or Grandad, or a friend and create together…  What photos will you share ahead of our online Zoom calls?!
Come and join us with some accountability in Arty Heaven… It really is Arty Heaven….!
Check out the testimonials page here: https://artyheaven.com/testimonials/
CLICK HERE TO VIEW AND BUY FULL COURSE DETAILS:
https://arty-heaven.teachable.com/p/online-course-bundle/?preview=logged_out
If you have already bought one of my online courses, but like the look of the others and this added support, message me, I have an alternative sign up for people already enrolled.   julie@artyheaven.com
People have started signing up already, I am so happy about that… will you come and join us…?  Lets start this new decade off with a bang and get 2020 being our most creative yet!
CLICK HERE TO VIEW AND BUY FULL COURSE DETAILS:
https://arty-heaven.teachable.com/p/online-course-bundle/?preview=logged_out