Quirky New Encaustic Portraits….
Did you know the origins of encaustic wax painting goes back to Egyptian Mummy Portraiture and Iconography, around 2,000 years ago…?  (A couple of examples below)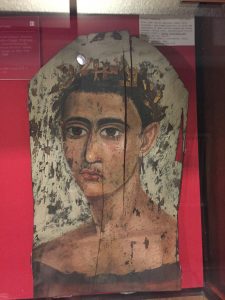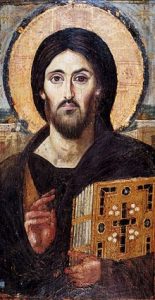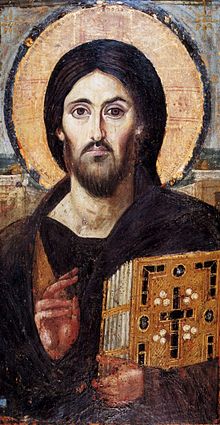 I've always worked with wax in a pretty abstract way until now.
I had seen a few photographs of modern encaustic portraiture… one in particular by Lora Murphy that stopped me in my tracks…  But, it was still a bit of a mystery as to how to create it myself.
To be honest, I'd never really tried, it was there as a 'thing to find out'… but as encaustic wax artists are pretty few and far between in the UK, it never moved too high up my to do list, and hours of experimental practice over the two or three years I'd been wanting to do it, never seemed to happen….
Imagine my delight earlier this year, when I saw that Lora Murphy was running an encaustic wax portraiture course in LONDON….!
It was the first one of it's kind in the UK that I had been aware of.
I excitedly booked myself on, and waited for the course to come around.
Seven full days of encaustic wax portraiture.   It was A LOT!   The concentration left me whacked at times, and more than once I got back to my hotel room at six o clock, sat on the bed, only to wake up three hours later!
There were seven of us on the course, and I expected everyone to be fairly local… Nope… We were a real International bunch; only two of us from the UK, the others had travelled from Hungary, Ireland, Germany, Finland, and Eva from the Czech Republic… who did not speak a word of English, so brought her son to translate…!
It was amazing to spend that dedicated time creating, without all the other usual distractions… There was some outstanding talent there, (some of the others having already attended other classes of Lora's in other countries) and under Lora's guidance, we created many individual pieces.
Days one and two were all a bit of a mystery to me… It was kind of coming together-ish in places, but not quite, and I really couldn't see how the finished pieces would work… Lora promised it would all make sense soon…. with a deep furrowed brow, and a puzzled look on my face, I carried on, determined to work out the process.
I finished my first lady, who was looking a bit dark and scary in places, but it was an interesting process, and I was slowly beginning to understand.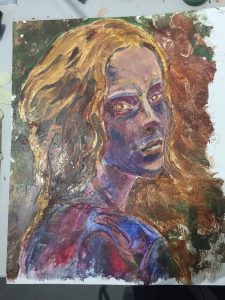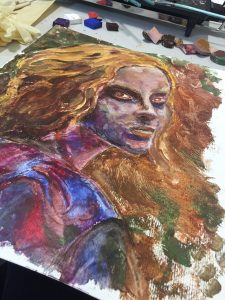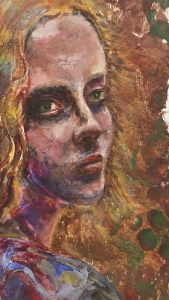 I started drawing out my next portrait ready for day three, and went back to the hotel making a bit more sense of it all.
Day three's portrait almost fell out onto the canvas… It was one of those moments where it all slotted into place…   I found myself singing and humming to myself… happy as a sand-boy…  (I apologise again to everyone there for my tuneless notes from day three onwards, I really couldn't help it…!)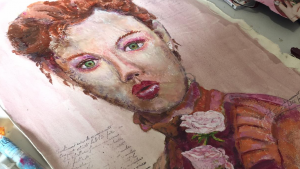 Day four was the same…   It all just clicked…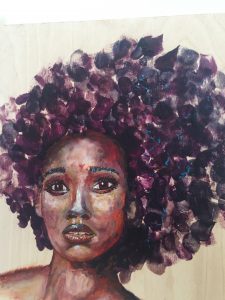 I went back to the hotel that night, then took myself out for a long walk.   I needed some quiet processing time.
On my travels, I came across a perfect, quiet, wine bar, and took myself in for a sit down… Whilst sitting there reflecting, it dawned on me that these wax portraits were like a missing piece of a giant puzzle.   It was all slotting into place.
I had seen, and dreamt, about those elusive skin tones created in encaustic wax…
I used to copy faces from magazines when I was a teenager, (some of my pictures from the 80's below!) I would spend hours up in my room, happily drawing away.  I hadn't done it in years.
Suddenly all of those pencil drawings, and all of the encaustic wax abstract work I'd created… learning, and understanding the different application techniques… all made sense.   I'd just never known how to marry the two.
It was quite a moment….
I raised a rather lovely glass of rose blush to myself and grinned like somebody who had just won the lottery…!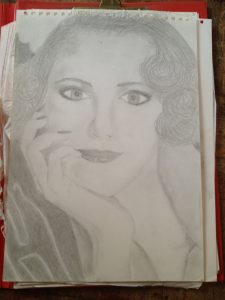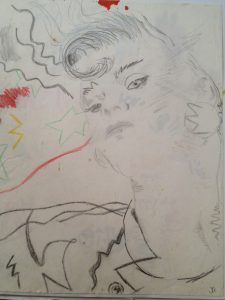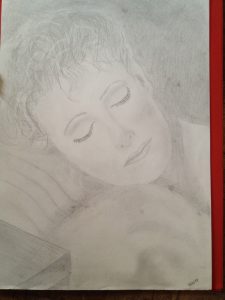 Thankfully one of the other girls joined me at this point, which made me look slightly less like a mad woman out on day release…!
The rest of the week turned into a blur, we used cold wax techniques, and different methods of making mediums, colours and media.
The week ended with a lovely lunch, some pink champagne to round the afternoon off, and lots of fond farewells.   I'm sure we will all stay in touch.
My hubby very kindly came and picked me up, so I didn't have to battle with my cases and newly painted art works on the hour and a half train and tube journey back across London.   It was a beautiful warm, sunny April day.  Just perfect.  I smiled and sang all the way home.
(I left with a half finished painting, which I haven't got back to since getting home… Never underestimate booking that creative time out!)
Special thanks to Lora and the other attendees for helping me to fill in those missing blanks.
I will be updating my next blog with more about the location, and what I got up to when I skipped class for a morning soon!
If you want to view these new portraits, I will be exhibiting these, and more during Bucks Open Studios, Thursday 15th – Monday 19th June 2017. 12noon-5pm daily.  St John's Church, London Road, Bourne End, Hemel Hempstead, Herts, HP1 2RU.   Or contact me for more info.