I've been looking for a way to support our bees, and give something back to these amazing creatures, a little thank you for all the beeswax I use in my painting…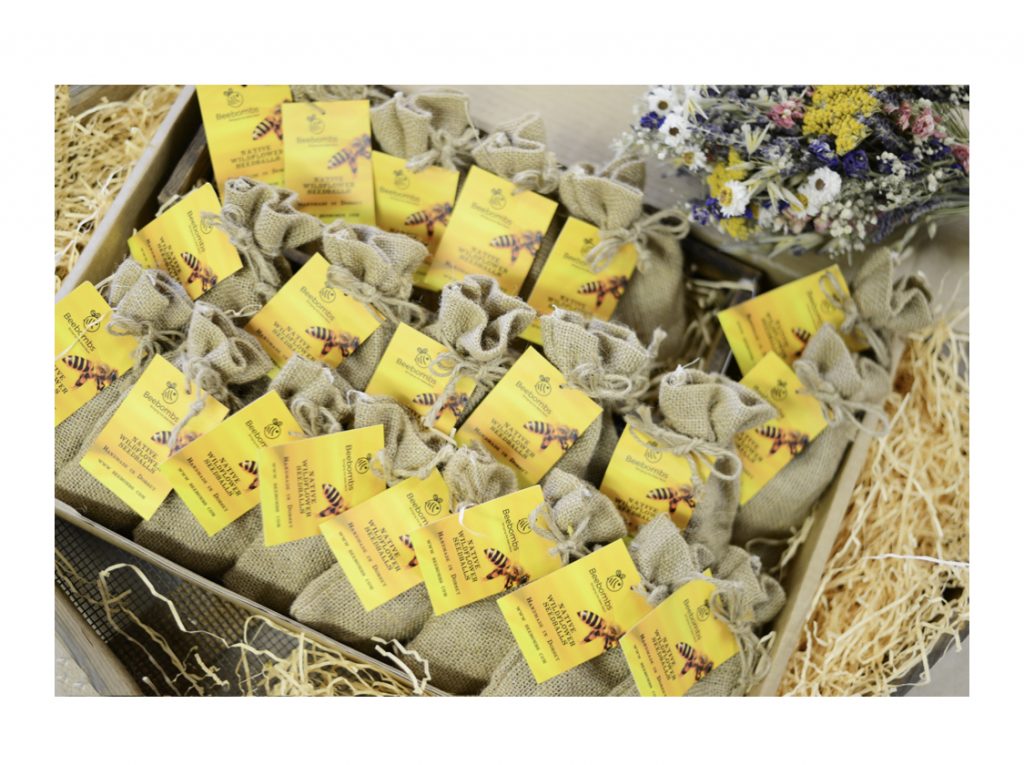 Then I came across… "Beebombs" and decided, what better way than to help people plant bee friendly flowers in their gardens…
97% of natural bee and butterfly habitat has been lost in the UK since WW2.
Ninety seven percent….  97%….  It's frightening and critical….!
I love the ethos of this company, and decided  #Beebombs and #bringthebeesback were a way for me to start, and offer my support.   One Beebomb pack will return 21 square feet of wild flowers to your garden, and don't need any specialist gardening skills… perfect!
So, I'm super happy to announce, that I am now a stockist of Beebombs.
You can buy them directly from my studio, near Sarratt in Hertfordshire… (I am open by appointment)
One bag £8 | Three Bags £21 | Five Bags £30, or through my online shop:
I also include Beebombs with every art sale… if you can't use them yourself, gift them to somebody who can, or leave them out for somebody to find with a little note as a random act of kindness… It's fun to do… and all the while, you will know you are helping to return our native wildflower habitat, and supporting our buzzy little bees!
What are Beebombs?
Beebombs are handmade wildflower seedballs. We make them from sheltering clay and sifted top soil, packed with 1000s of seeds from native wildflower species.
Beebombs need no gardening skill and can be scattered straight onto open ground at any time of the year.
Once scattered, you don't need to water or tend your Beebombs.  They say 'cleared ground' as wildflowers are hardy and adaptable but slow growers. This means that they can be out-competed by faster growing grasses and perennial weeds at the critical early stages, so straight onto soil is best if possible.
The soil will help your Beebombs germinate and the clay will protect them as they dissipate.
Lots of sun and rain is of course important, as is time.
Beebombs contain 18 species of wildflowers, native to Britain and confirmed by the RHS as 'perfect for pollinators'.
They are:
Yarrow | Common Knapweed | Wild Carrot | Lady's Bedstraw | Rough Hawkbit | Oxeye Daisy |Ribwort Plantain | Cowslip | Self Heal | Corn Marigold | Yellow Rattle | Common Sorrel | Salad Burnet | White Campion | Red Campion | Common Poppy | Cornflower | Corn Chamomile
How to scatter your Beebombs
Our Wildflower Beebombs need no gardening skill, no tilling or sowing in the traditional sense. The seeds are combined with nurturing sifted soil and sheltering local clay to protect them from predators.
Just throw your Beebombs onto cleared soil and await the blossom of colour and the return of native bee and butterfly species.
Beebombs can be scattered at anytime of year but Autumn and Spring are optimum.
You can help bring the bees back!
With your help, we can start to restore the lost wildflower habitat and make an important contribution to the biodiversity of Great Britain.
Hand made in Dorset, Beebombs are a mix of 18 British wildflower seeds, fine, sifted soil and locally sourced clay. Our seeds are native species and designated by the Royal Horticultural Society as "Perfect for Pollinators"
Beebombs just need to be scattered onto cleared ground to create a wildflower meadow that will #bringthebeesback