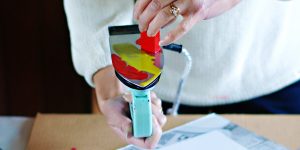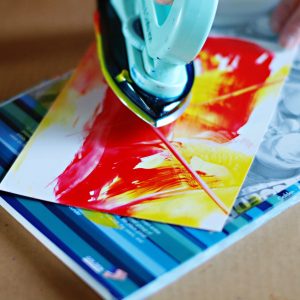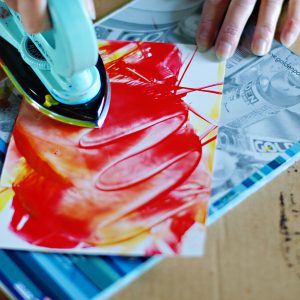 Are you looking for a fun alternative day out?
Perhaps a day, or an afternoon out of the office for you and your team?   A civilised Hen Do, before the real shenanigans begin?!  A birthday, or family get together, to spend some real quality time…?  Check out my Arty pARTy…!
Fun, play, balance and creativity has never been more important…  I'm delighted to offer you an experience with a difference!
I specialise in encaustic painting, (hot wax painting) and yes, it is as fun as it looks!
Under my guidance, you could be creating a collaborative piece of art, or just loosing yourself in pure intuitive play.
I've been hosting encaustic workshops for years, small private 1-1 sessions, through to demonstrations and workshops at The National Honey Show and Living Crafts….
The result is always the same… 'Ooh… I really enjoyed that!'
This is a luxury experience for you and your guests, brand new equipment is presented on the day, I will guide you through making your first marks… get you up and running, help where needed, then you keep creating until you are done!
Laughter, and copious cups of tea and coffee are highly recommended.
You decide to keep the equipment or, donate to a charity, to continue the joy and healing benefits of encaustic art.  (I can help hook you up with an appropriate charity if you wish.)
I'm based in Hertfordshire in the UK, but can travel.  Contact me for a quote.  Simply put me in touch with your PA, or e-mail me… julie@artyheaven.com  Let me know your location, number of participants, and preferred dates, then leave the rest to me, allow me to create a magical day of colour, texture and fun, and an experience that your team, family and friends, will love and remember for weeks.
I'm also available for art retreats, if you can envisage encaustic art sitting alongside your current offerings… message me for availability!
Here's a short video of where we can begin…
Want to see what people are saying about my workshop sessions…?  Go to my testimonials page here!
Any and all questions to julie@artyheaven.com   I look forward to hearing from you.
Painting with an iron is the quickest and easiest place to start, but we can add in stylus, hotplates, heat guns… any number of painting tools to spice up the day, depending on your budget and needs…!