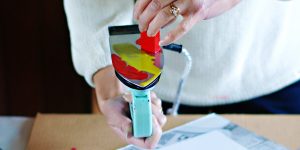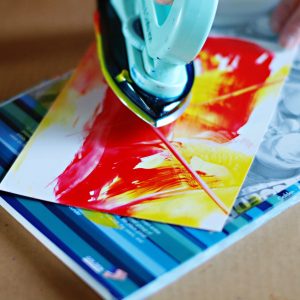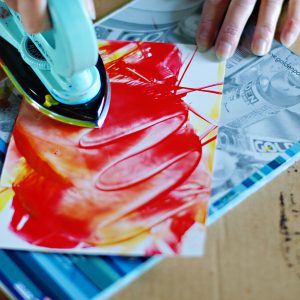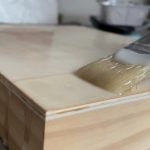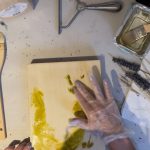 Looking for a fun session to scratch that creative itch?
Whether you're looking to take up a new art medium, or just looking for an activity for a special occasion… encaustic wax creative sessions are perfect.
I specialise in encaustic painting, (hot wax painting) and yes, it is as fun as it looks!  I love sharing this medium, as you discover the tactile delicious sensory experience for yourself.
People join my sessions for all sorts of 'reasons' and occasions (not that you need a reason in my view!)… Over the years, I've hosted birthday and family get togethers… We've held sessions where three generations got together and every one loved it, so special!   I've been the 'Civilised Hen Do activity', before the real shenanigans began!   I've hosted Company Team Building sessions, a few hours out of the office to bond and reconnect… So many themes, I love helping to make your event exceptional, whether it be arranging balloons, cakes, decorating the venue, it all adds up to a fun and memorable occasion.
What will we do…?
Under my guidance, you can be creating your own masterpiece, or just loosing yourself in pure intuitive play. You don't need any prior art experience, neither do you have to be able to 'draw a straight line'!!
I've been hosting encaustic workshops for over a decade, small private 1-1 sessions, through to demonstrations and workshops at The National Honey Show and Living Crafts….  with each session tailored to the event and situation at hand… The outcome is always the same… "Ooh… that's amazing…" and "I really enjoyed that!"
This experience will reconnect you with yourself, as you allow yourself to play…   I will guide you through making your first marks… get you up and running, help where needed, then you keep creating to your hearts desires.
We can keep it as light, or as detailed as you would like.
Laughter, and copious cups of tea and coffee (or glass of fizz or two) are highly recommended.
I'm based in North Cornwall in the UK, and have use of an art studio in Bude, but also travel regularly back to Hertfordshire, so can arrange alternative locations across the south of the UK if you have a suitable location.
Contact me to arrange: julie@artyheaven.com  Let me know your location, number of participants, and preferred dates and we will arrange from there.
Painting with an iron is the quickest and easiest place to start, but we can add in stylus, hotplates, heat guns… layered wax and dammar pieces, any number of painting tools to spice up the day, depending on your budget and needs…
Want to see what people are saying about my workshop sessions…?  Go to my testimonials page here!
Any and all questions to julie@artyheaven.com