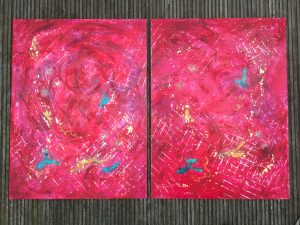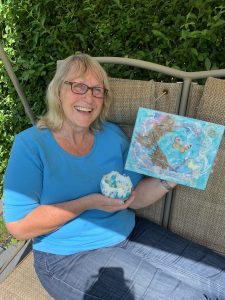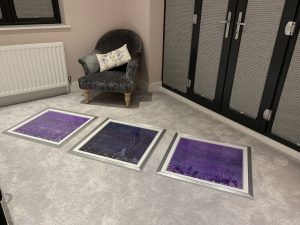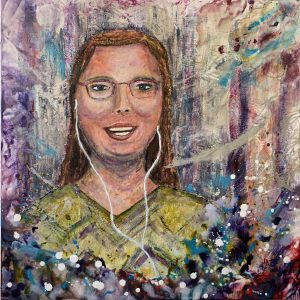 Don't you wish you could hold onto that special memory forever?
To be reminded, and brought back… to particular moments in time…
That pang of nostalgia.   Feeling of achievement.
I can help you with that!   
Together, we can create a personalised work of art…  specifically for you…
A piece that's meaningful, poignant, and tailored towards your favourite memories and passions.
Something that brings that sense of connection, joy, and emotion each time you pass by!
People commission and buy paintings from me for all sorts of reasons…
To celebrate an event, an anniversary or milestone in life.  To remember somebody by.  A successful launch, or overcoming a huge obstacle.  A new home, or to finish off a recent renovation.   The list of reasons is varied, but it's usually a celebration; with colour, texture, and hidden meaning.
Past clients often said they just couldn't find anything that spoke to them when they went looking for art, or that it was 'all the same', so relished the opportunity to create a bespoke piece.  Especially using this particularly auspicious material of much treasured beeswax!
My encaustic wax paintings evolve, reflecting back different moods, according to the weather, and seasons of the year.  They radiate an energy, and will often catch you by surprise as you enter a room and find the sun shining on them.  They are extremely energetic and up lifting.
So… using my artistic talents, and your ideas… together, we can create unique, bespoke pieces to help you mark your occasions, and make those walls pop!
Beeswax is a unique medium, which allows for limitless combinations of ideas to be incorporated.  
Got a favourite place, or pastime?  Certain number of people in your family? Let's represent them within your painting… 
Tickets, poetry, phrases, textures, colours, symbols, animals, pressed flowers….
These can all be added within our layers of wax.   I love incorporating hidden text and subtle messages, it all adds to the mystery, energy and allure of the painting.
Sounds fab, but how much does it all cost?!
Commissioned artwork often isn't as expensive as you might think. A small 8 x 10 piece can start from as little as £200. (Not portraits)  Larger scale pieces and portraits start at £1,500.     
Size isn't an issue, I can source wooden support panels of all shapes and sizes, my most recent large scale painting was six foot tall, and I'm open to playing with unusual shapes too!
I don't work through galleries, which means I can bring work to you, without factoring up to 50% of gallery costs on top…  A win win for both of us!
What about framing? 
A lot of my work doesn't need framing, and can be hung directly on the wall as it is. 
But, I also work with some very good framers, and can give you advice around that.  Framing costs are extra, and frame design affects shipping and packaging, so it's an area for us to be clear on.   
How long would a commissioned painting take?
That really depends on the piece.  We can discuss that on our first call, if you need your art for a special occasion with a deadline, let me know and we can discuss options.
A number of factors can affect the timescale, but as a rule of thumb, allow 4 – 6 weeks.
However, it can be quicker, could also be slightly longer!   If you have a deadline, I will always try to work with you around that.
My paintings can also take six months to fully cure (harden) once finished, so depending on where they are shipping to, I like to ensure they have cured sufficiently to ensure they won't be damaged in transit.
I will always keep you informed throughout the process.
How does this process work? 
Most of all I want this to be an enjoyable experience…  for both of us!  Nothing to get stressed, or be nervous over.  
It starts with you contacting me, via e-mail:   julie@artyheaven.com   
Give me an idea of what you're looking for, with any special reasons for wanting the art.  A photograph of where you would like to hang the piece can often be helpful, but isn't essential. 
From there, I will send you a link with my availability, and we will schedule a call.  I prefer a video call, as I can get a better feel for you, and your personality that way.  
I offer a free 15-20 minute call to discuss potential options.
We will discuss what you are looking for; sizes, colours, budgets, timescales and ways I can help with that.  Don't worry if you don't know WHAT you want yet… we can work with that too!
A portrait would be quite straightforward, I would need a high resolution photograph, which I would interpret in my unique style. 
For more abstract pieces, I invite you to share your wackiest ideas to see what we can brainstorm together!  No question is too daft, and I love nothing more than making suggestions that you might not have considered.
Some people are happy to leave it up to me, others want more input.  By now, you will have seen my work, so you'll know the magic of wax, and can be confident you'll get something you love.
That first call usually lasts around 15 minutes, and is mainly an information gathering exercise.
I like to mull those ideas for a while, just to think things through, and find my best inspiration strikes once I've had a chance to sleep on it for a day or two!  
I will reply to you via e-mail within a few days.  Confirming our conversations, ideas and give you prices and estimated shipping costs.  It will also include my terms, and details on how to proceed.
From this point, it's over to you to decide whether you want to go ahead.
WooHoo…! You want to me to create your painting for you…?!
To proceed, simply confirm my terms, by replying to my e-mail, which includes a 50% non-refundable deposit.  This must be received before any materials are bought, time scheduled into the diary, or work started.
I will confirm a start date and timescale for completion with you.  We can set up a payment plan for the remaining balance at this point if you wish.
I usually liaise with you 2-3 times throughout the process, just to check we are on the same page with what I am creating for you.  Please respond promptly and don't be afraid to speak up, so as a) not to delay the completion, and b) to ensure you are getting the finish you want.
Once the piece is completed, I will share photos of the finished art, and give you one last chance for any minor adjustments.  I will also confirm exact shipping costs at this point.   
Payment for the art, and shipping costs must be received in full, before I dispatch the artwork to you. 
All of my original artwork comes with a signed certificate of authenticity and care instructions.
The art is carefully wrapped and shipped to you.  
I often add an extra finishing touch or two to surprise you within the layers too!
I always follow up to check that you are happy with your artwork, and would always work with you in case of any unexpected problems.
Feedback and testimonials are always welcome… and if accompanied with a photograph of your art hanging, or with you, even better! 
I can't wait to get started on creating your perfect piece…. 🐝🎨💕✨
Drop me an e-mail: julie@artyheaven.com    and lets get that first call in the diary.
Here are just a few testimonials from happy clients…!