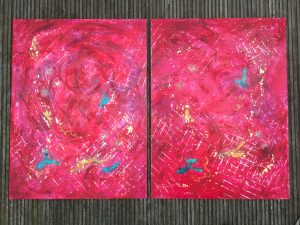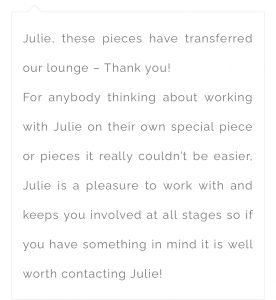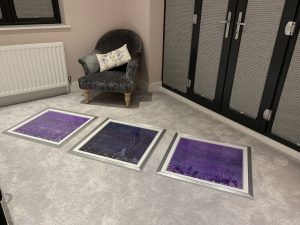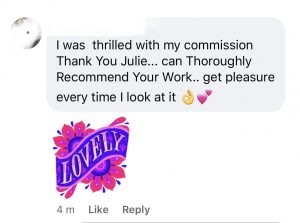 Can't find the artwork you have in your mind…?
You thought it'd be easy to find the art you were looking for, but nothing seems the right shape, or colour… or it's mass produced, repeated everywhere, and just feels soul less…?
Would you really like a piece of art that reflects you, and your unique personality…?
Imagine if you could work with somebody artistic; someone you could discuss your ideas with, and create unique, bespoke, made to measure soulful art, with subtle little nuances that hold really special meanings and memories for you….
I can help you with that!   
Together, we can create artwork(s), especially for you…
A piece that's meaningful, poignant, and tailored towards your personal taste.
Using my artistic talents, and your ideas… together, we can create unique, bespoke pieces.   
Pieces to mark your occasions, make those walls pop, and ensure you find artwork that's exactly what you're looking for…. (often I have artwork in stock, that hasn't made it onto my website as yet, so it's possible there's something here already, waiting and perfect for you!)
I work with Interior Designers, Companies and Individuals, helping them find one off, bespoke artworks…
I use a very unusual ancient process, using hot molten beeswax, with my own modern day twist. Every piece is lovingly created and crafted into its finished form, using only the highest quality materials.
Beeswax is a unique medium, it's natural materials give it a very organic feel and energy, and allows for limitless combinations of ideas to be incorporated.  
The Process to your finding your perfect piece…
It starts with you completing this easy online form. This gives me a little background information about what work of mine you've seen, and where, and the kind of work you might be looking for.
From there, I will reply to you via e-mail, either with suggestions, or to arrange a meeting, or video call to discuss size, style, vibe, etc. further.
One we establish there is nothing suitable in stock, we will start the custom art process, and I will follow up, with more ideas, or to confirm details and pricing discussed on our first call.
There is no pressure for an immediate decision whilst on a call, you are welcome to take your time to think it through. I will follow up with you a few days later if I haven't heard from you.
Once agreed that you would like to proceed with a commissioned artwork, a contract is signed by both parties, and a 50% non-refundable deposit paid to secure space in my diary and purchase required materials.

I usually liaise with you 2-3 times throughout the process, sharing progress pictures, or videos, please respond promptly and don't be afraid to speak up, so as a) not to delay the completion, and b) to ensure you are getting the finish you want.  

Payment needs to be received in full, before the artwork is delivered to you.  (Payment plans available if required)

We arrange a convenient time for delivery. 

I follow up to check that you are happy with your artwork, and would always work with you in case of any unexpected problems.

Feedback and testimonials are always welcome…  if accompanied with a photograph of your art hanging, or with you, even better! 
Your irritating empty bare walls can be a thing of the past…
Within a few short weeks, you can be enjoying the connection with your new bespoke art, basking in the knowledge that it is as meaningful and unique as you, and a piece you will cherish for years to come.
If you're an interior designer, finding unusual art for your client that they haven't come across before is key,  I'm very happy to work with you and meet your clients brief.
If you're wondering what the limitations of my creations are, really very few.  I either work with standard UK sized papers and boards, which I often cut or crop to create the finish I'm after, I also work with a cabinet maker, who can make boards for me in any custom size or shape I want… I love unusual and challenging projects… so don't put a limit on what's possible.
How long would a commissioned painting take?
That really depends on the piece.  We can discuss that on our first call, if you need your art for a special occasion with a deadline, let me know and we can discuss options.
A number of factors can affect the timescale, but as a rule of thumb, allow 4 – 6 weeks.
However, it can be quicker, could also be slightly longer!   If you have a deadline, I will always try to work with you around that.
My paintings can sometimes take six months to fully cure (harden) once finished, so depending on where they are shipping to, I like to ensure they have cured sufficiently to ensure they won't be damaged in transit.
I will always keep you informed throughout the process.
All of my original artwork comes with a signed certificate of authenticity, care instructions and a short explanation of how it was created… so you can explain it to your friends as they admire it!
How much does it cost to commission a painting with you?
Prices depend on the complexity and size of the artwork.  My ideal commissions are large scale feature pieces, typically around £5,000 for a 1.5m x 1.5m, however, I also work on a smaller scale, my minimum charge for a small commissioned piece is £250.
What are the next steps…?
Complete this ten question form.
I will reply to arrange our first meeting or call, or e-mail photos of anything I think may be suitable.
We establish if there's any existing work in stock, or whether we enter into the commission, custom art process to hook you up with your perfect artwork(s).
Here are just a few testimonials from happy clients…!
Also see my Art Testimonials Page
I look forward to hearing from you.