I don't know about you, but, in my experience, art has hardly ever been encouraged…! Considered something to do in your spare time, if you ever had spare time… a hobby at best.
My creativity was quashed for a long long time, but I found my way back to it recently, and now I'm making up for lost time.
I love art of any kind, but there's something extra special about painting with hot fluid wax…
Hi, my name is Julie. I'm an artist and the instigator of Arty Heaven, which started out as Julie Ann's Gallery, so yes, if you're wondering, you're in the right place!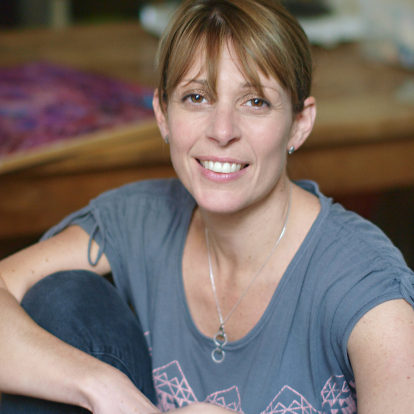 Everything I do is to encourage a welcoming, inclusive, nurturing environment, free of hierarchy and rules.  I can't stand divides, whether over religion, race, politics, your art background… or lack of.  
I believe we are all equal, and when given a chance, and invited to stop, quieten our minds, and step away from the day to day, to appreciate the simple things, we will all reconnect with who we truly are, and remember what brings us joy in life. 
I do this by painting with natural, tactile art materials, mostly beeswax and dammar resin, then translate that simplicity, joy and inspiration through my art and by welcoming people into my studio.
How can I help you?
Firstly, I help people create beauty in their homes and offices, with one-off bespoke, light-filled beeswax art.
Most people say that my art 'Just Spoke to them'… that is exactly the feeling I aim for, and to the right person, you will get goosebumps, exclaim that you 'love it' and 'know' it's the piece for you.
My art is very intuitive, it is always bright and colourful, and perfect for people who like to do things differently.
Secondly, these techniques are rare in the UK and Europe.
I love to share these techniques.
My new studio space is beautiful, so I open my doors a few times a year to share these techniques with people wanting to learn more.
I do this through:
Finally, I sell encaustic wax supplies, an extreme rarity in the UK.  Some are on my website, some are just in my studio.  
I don't do this because I love to process orders, and arrange shipments!  I do this to help people obtain supplies, I remember the frustration of not being able to locate and buy products in art shops only too well.
(I've also recognised that I don't enjoy adding products to my website, so just contact me for any items you would like.  Chances are, I can get them for you, we'll just arrange it by e-mail!)
So, how did I get here…?
After never putting a pencil down as a child, and being encouraged to take cookery, over art, at school, (far more practical!) – I only started drawing and painting again in January 2011.  Encouraged at a local untutored art group, I started to look forward to those Friday mornings all week, every week!  In September that year, I was selected as one of 80 artists to work on a project at Tate Modern, and that was it… It gave me the confidence to pursue a dream of working in the arts somehow. Something that had seemed impossible before that point.
I went on and discovered encaustic wax… well that was a whole other level!
You can read the full story of how I came to this path here.
WANT TO KNOW MORE?
WORKSHOPS & DEMOS
Learn how to paint with wax. Go here to find videos, online workshops, freebies, inspiration, and info on art club talks.
BUY WAX SUPPLIES
We supply LOTS of encaustic wax supplies, a bit like gold dust here in the UK… Explore and be like a kid in a candy (wax) store.
JULIE ANN'S ART
Arty Heaven is run by Julie Ann, her passion is painting, and creating one-off, beautiful, light-filled artwork.
 Some Other Things About Me
1. I have big plans...
My ultimate dream is to run an art retreat centre.
I'm working on that…!
2. I am a bit obsessed with wax...
I'm fascinated by the history of Encaustic Art dating back 2,000 years, I have spent time at the Ashmolean Museum in Oxford, and Petrie Museum in London studying Fayum Portraits, and have plans to do lots more research to add to this foundation.
3. I am guided by inspiration....
Don't ask me to sit down and paint an XYZ…!   I have to paint when inspiration strikes…  some of my best work does come out during some form of structure, but it's very intuitive, I rarely create work purely to 'sell', I just create, knowing the right person will find their right piece of work when they need to.   I love it when a person says "It just spoke to me…"
4. I am learning to sing...
Cover your ears…. I'm pretty rubbish at it, but you'll often find me humming away in my own little world when I'm lost in a painting, or on a Thursday night in the back row with the naughty gang at our local Glee Club…!   I didn't say I could sing, but I'm having fun learning it (I say that very loosely!)
 Want to try this, but don't know where to start…? 
Click below to grab a free video with an overview on where to start, and a few tips and tricks to get you on your way.