Hi, my name is Julie Wrathall. I'm an artist and the instigator of Arty Heaven.
(Which started out as Julie Ann's Gallery, so if you're wondering, yes, you're in the right place!)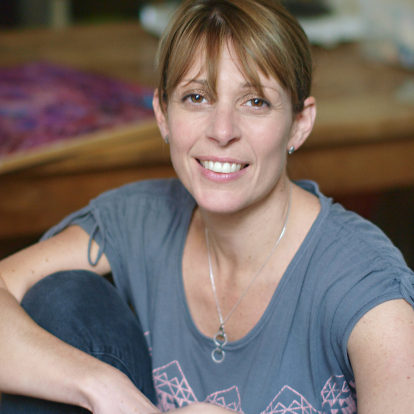 I am a fine artist based in Hertfordshire in the UK, I specialise in the ancient art form of encaustic painting…
Which means I paint with hot molten beeswax.  There is something particularly satisfying about this medium… its constant evolution, an almost living art form, which continues to breathe and evolve for months and years after the painting is completed.
Having been taught that art was 'just a hobby' I didn't believe a career in the arts was possible, until nine years ago, when I won a competition at Tate Modern in London, which changed everything!
I now creates individual works of art, filled with texture and light, and sell them here, through my website and my social media channels.  I also teach these encaustic painting skills to others, and help people with encaustic supplies when needed, which are extremely rare in the UK!
I love to share the joy and therapeutic qualities of wax painting… 
Something magical happens during the process of applying it, and viewing it, and I believe it continues to live, morph and evoke strong feelings for years to come.  Every changing season, or sunny day changes the way it is viewed and perceived. 
Here's a video direct from my studio explaining a little more about my work below.
*In person workshop and art retreat options have changed since lockdown.  Please enquire about art days for 1-2 people and 1-1 Zoom calls.
WANT TO KNOW MORE?
WORKSHOPS & DEMOS
Learn how to paint with wax. Go here to find videos, online workshops, freebies, inspiration, and info on art club talks.
BUY WAX SUPPLIES
We supply LOTS of encaustic wax supplies, a bit like gold dust here in the UK… Explore and be like a kid in a candy (wax) store.
JULIE ANN'S ART
Arty Heaven is run by Julie Ann, her passion is painting, and creating one-off, beautiful, light-filled artwork.
 Some Other Things About Me
1. I have big plans...
My ultimate dream is to run an art retreat centre.
I'm working on that…!
2. I am a bit obsessed with wax...
I'm fascinated by the history of Encaustic Art dating back 2,000 years, I have spent time at the Ashmolean Museum in Oxford, and Petrie Museum in London studying Fayum Portraits, and have plans to do lots more research to add to this foundation.
3. I am guided by inspiration....
Don't ask me to sit down and paint an XYZ…!   I have to paint when inspiration strikes…  some of my best work does come out during some form of structure, but it's very intuitive, I rarely create work purely to 'sell', I just create, knowing the right person will find their right piece of work when they need to.   I love it when a person says "It just spoke to me…"
4. I am learning to sing...
Cover your ears…. I'm pretty rubbish at it, but you'll often find me humming away in my own little world when I'm lost in a painting, or on a Thursday night in the back row with the naughty gang at our local Glee Club…!   I didn't say I could sing, but I'm having fun learning it (I say that very loosely!)
 Want to try this, but don't know where to start…? 
Click below to grab a free video with an overview on where to start, and a few tips and tricks to get you on your way.