Description
This painting will bring you an instant calm.  It's colours are refreshing, cooling, designed to bring grounding and stability.  Loose yourself in a calming cool scene drenched with pastel blues and pale pinks.
One of a kind encaustic art work, painted with an iron!
Completely one of a kind, original and unique.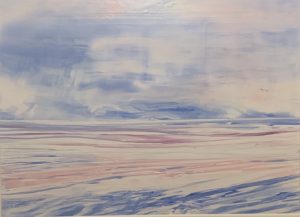 This picture is A4 in size (28cm x 20cm), painted on encaustic paper and sealed with a specialist encaustic sealer.
Mounted in a white core double white mount using acid free tape, with white core backing board. Mount measurements are 40.5 x 30.5 cm, wrapped in a protective clear cellophane bag, ready to frame.
The picture is signed and dated on the back, and on the backing board.