Studio Directions in Sarratt…
Julie Ann's 'Arty Heaven' Studio,
Newhall Farm, Bucks Hill, Sarratt, Kings Langley, Hertfordshire, WD3 6AW.
PLEASE NOTE, ALL ACCESS IS NOW VIA DEADMANS ASH LANE ONLY.
Using postcode WD3 6AW, turn onto Dead Man's Ash Lane.
After driving a few hundred yards, watch out for a turning with some white pillars, a white lion head, and a sign called Hillcrest.
At that turning, you will see Private Road signs to Newhall Farm.
Follow that drive all the way to the end.  It's a long way down, nearly a mile, so don't turn around and go back thinking you've taken a wrong turn!
At the very end, you will see some buildings in front of you.
Turn left by the first big barn, where you will see my studio straight ahead of you.
You can park anywhere on the large area of hardstanding in front of the studio, however, please do not block any barn buildings or doorways, as these are in constant use.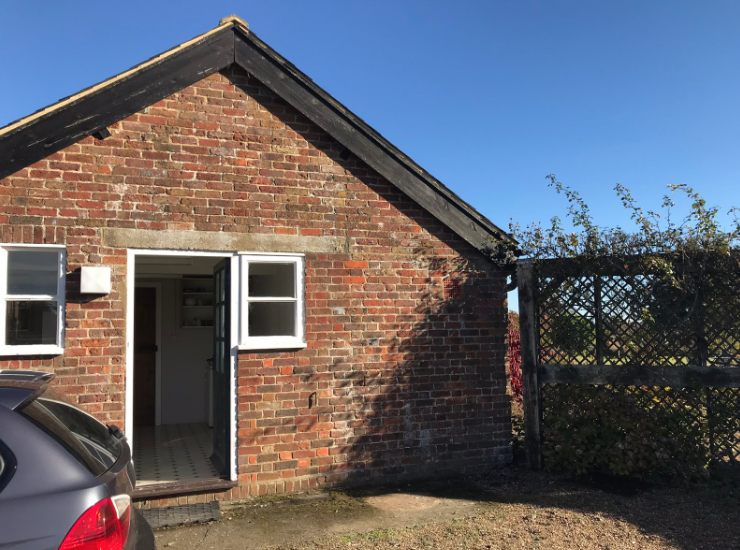 Entrance to my studio is through this doorway, to the right of James Laurence Cars.
Any problems in finding the studio, call me on 07976 700737.
I look forward to seeing you!
PS. To be clear… Studio is currently only open by appointment, so please drop me an e-mail or call ahead, to ensure you don't have a wasted trip!
If you do not have a vehicle…
There is a nearby bus route that can drop you near Dead Mans Ash Lane: https://bustimes.org/services/352-hemel-hempstaed-watford
Train stations and undergrounds are within a few miles.
However, despite being so close to London and the M25, it is very rural.
Unless you are up for a good walk, you are likely to need some form of transport or taxi at this end…!