Description
This painting brings an instant calm.  It's colours are refreshing, cooling, and my absolute favourite colour – turquoise…!
One of a kind, original, unique encaustic painting.
Signed, includes care instructions and certificate of authenticity.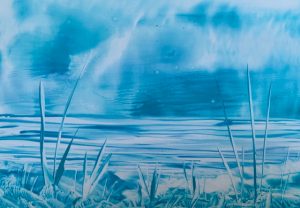 Title: Tropical Blues
Size:  21 x 15cm
Medium:  Encaustic Wax on Specialist Encaustic Paper
Unframed, unmounted.
Includes free UK Shipping.  Enquire to calculate overseas shipping costs.