My View of Chiltern Arts Fest 2015
I can't believe over a week has gone by already since our fabulous weekend at Chiltern Open Air Museum.   If you didn't make it along, you missed a really chilled, relaxed, easy going fusion of crafters, makers and top level artists, of practically every medium going.
On first impression at Chiltern Open Air Museum (COAM), if you are not familiar with the place, and it's history, you can walk around and wonder what ever it is all about.   If you are thinking Arts Festival, as in, an in your face, commercialised, people everywhere, rows and rows of audiences, fighting to get a glimpse of the art, and straining to hear the speakers microphone, then think again.   This is relaxed, easy going, and far easier on the tension levels.
Make sure you bring your walking shoes though… COAM is a working farm, and the museum buildings the artists demonstrate in are probably spaced over a couple of acres.  I would call it an art trail. The artists are more of a discovery on a treasure hunt, than a mass, readily available in a huge marquee.   I overheard a couple of people say they would have brought different shoes had they known!
So, talking of the museum buildings, they are all historical buildings, of importance in their own right.   Buildings and structures which had they not been rescued, brick by brick, tile by tile, or plank by plank, would have otherwise been demolished or rotted to the ground.   As I wandered around the site, I stepped inside an Iron Age House, an old Forge, a 50's pre-fab, and the building I was demonstrating in, an old Victorian School House, was complete with a 'tortoise stove' log-burner, school benches, and blackboard!
The buildings have featured in a number of television programmes, including Call the Midwife, Horrible Histories, and Downtown Abbey, amongst many others.  Due to the nature of the historic buildings, you cannot pin, tack, or otherwise fix anything to the walls, or floors.   Displaying signage, artwork etc. which are not freestanding can be trickly, so you should be prepared for that if you are planning to exhibit.
COAM are currently raising funds to re-build 1950's "Father of DJ" Jack Jackson's recording studio, which saw iconic artists including Motorhead record the Ace of Spades, and some of Elton John's earliest recordings.
The more I learn about this museum and the preservation work they do, the more I understand and appreciate what they do.   They have an incredible programme of events throughout the year, if you have never been, I urge you to go, look around and soak up some of the history there.   Event days like our Arts Fest, through to Classic Car days and Medieval Jousting, are included in the price if you get an annual pass, well worth the dosh I'd say.
Anyhow, back to the actual Arts Festival… I loved it….! Saturday was particularly lovely, the sun was shining, people were picnicing on the village green, a shire horse was being walked around and doing its work in the field.   Vintage music was playing, and I was jigging along…!  I met some really interesting people, the first person through the door that I really spoke to, was the daughter of the president of a local bee-keeping society (Hello… I paint using beeswax… TA DA…!) I have made contact and hope to hear back soon!   You can't undervalue going to these events, speaking with people and following up.   I have some new ladies wanting to do encaustic wax workshops, and it was great to be able to show the encaustic wax supplies that I sell, and to explain the process to interested people.   Sunday was special, as two of my regular wax ladies came along to see us, they didn't know each other before they started coming to my classes, and it was great to see that friendship extending beyond the studio, they both said after that they really enjoyed it.   I abandoned my post and joined them for a cuppa in the tea room, they treated me to a cream tea bless them, and I have to say, it was the best cream tea I've had this side of Cornwall.  (for those in the know, jam first, cream second…! 😉 )
There were some great artists there, ranging from first time exhibitors, to professional artists who have exhibited at some of the top galleries.   It's hard to pick out a few, but those of particular mention were…
Irena Bradley, http://www.irinabradley.com/icon-gallery-1.html a top class iconographer who works and teaches techniques using egg tempera and gold leaf.   Her work is simply stunning and her recent journey is truly inspirational.
Exhibiting in the Victorian School House with me were…
Jan Munro, http://www.janmunro.com/gallery.html who recently won awards for her pastel work at the Unison Awards and Artists Magazine Awards.
Barbara Weeks, http://myweb.tiscali.co.uk/weeks/ textile artist and tutor, who exhibits and teaches her techniques at Missenden Abbey, Living Crafts and Art in Action.
Julie Brandon, https://www.juliebrandonjewellery.co.uk beautiful hand made jewellery, many of her designs use a honeycomb design with a bee on it, I have the details logged come birthday's and Christmas!! ;D
All lovely, encouraging, talented people in our totally contrasting mediums, it was fascinating watching their practices and I really enjoyed demonstrating with them.
Finally, Candy and Maggie, who were in the barn next door, I don't think they have websites, but were also just lovely and we all got on famously!
Anyhow, the stars of the weekend for me, were some of the youngsters… I found the children, asked the most intelligent and probing questions.   Really interested in the process, young artists in the making, soaking every detail up like sponges.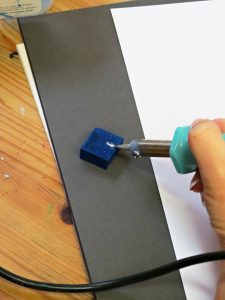 Applying wax with an Encaustic Stylus
One particular family got an in-depth demonstration of my iron and stylus, extending to splashing and splattering wax with the stylus, as a result of great questioning, and interest from the children, then, they happily went on their way.     As we were packing up at the end of the day, one of the daughters returned, she came running back to our Victorian School House and said to me… "We've been in the Creation Factory…  We were creating art using the techniques you showed us… It was fun…"
Well, that made my day, thank you so much to that young lady for coming back and sharing that with me… Priceless.
There are more pictures of the event on my Julie Ann's Gallery Facebook Page.     Remember to 'Like' the Chiltern Arts Fest page to get notifications of next years event.   Hope to see you there next year!
#happyface
There was another great write up last week in the GetBucks magazine too.  (Iincluding information about the Sylvia Pankhurst play which was performed on the Saturday, my only regret of the weekend, was that I missed it…!)