2018 Round Up, and here's to a Creative 2019!

Well… a week or two into the New Year, the dust is settling after all of the festivities, and I'm beginning to get that creative itch again.  I felt it would be good to do a little round up, before we move onto 2019… Looking back, I realised that 2018 turned out to be a tale of stops and starts… my biggest learning was that I can't do it all!
Back in spring of 2018, our major house renovations had progressed enough for me to start looking at studio space again, and I was fortunate enough to be able to share a studio in Chesham, with Sunil Pawar, an artist who had also been at The Stables Studios whilst I was there.
Having somewhere to run workshops, and create for me again was pure bliss. I had forgotten how important it was for me to have a space to go to.
Whilst I was there, I created lots of new online course material, and was really enjoying my progress, then…. out of the blue, had that little accident with a tin can back in May, and was out of action for almost three months. I was so lucky not to have caused more serious damage. If you missed it, there's a short video about it here.
That incident was one of my biggest lessons; not to try and do it all, at a million miles an hour, and without any downtime… Life has a funny way of slowing you down sometimes!
I managed to spend some time at the Chesham studio at the end of the summer, but it was becoming apparent that I needed a more permanent set up; only being able to use the studio on certain days, and needing to pack everything away at the end of my sessions, wasn't sustainable with my style of working.
That's when a call came out of the blue in September, from another artist friend, Susan Chester. We went to look at a studio, and potential exhibition space in Sarratt together.
We came away with our heads exploding with possibilities, it was taking a while for me to compute everything. It was a little further out than I had originally been looking for, but we all agreed it was a beautiful spot, and as you can see from the photographs, just too good an opportunity to pass by.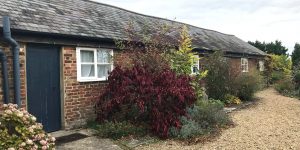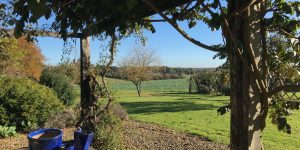 From there, a whirlwind of events took place, the studio was re-arranged, new lighting put in, new partition wall erected, and I picked up the keys ready for a start from the 1st November.
It was a frustrating start, however, I was away a lot in November, and on top of that, my car broke down, so I couldn't get there as much as I would have liked, but we got some workshops and open days going, and had some amazing visitors, and fun sessions up there.
I was also asked to create a large three piece commission, which I've really enjoyed doing, they've just been framed, and I hope the new owner loves them in real life as much as she has so far from the photos.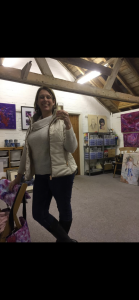 It was a stretch on top of everything else, and Christmas, but we did it, and it all came together somehow, as it always does!
I met some amazing new people in 2018, online, at events, including my third year at The National Honey Show at Sandown Park, and a great evening at The Open Door in Berkhamsted.  I've also had so much encouragement about my new 'Arty Heaven' studio.
So, that's 2018, what's next for 2019…?
I now plan to refine what I've created so far.  Get more of my artwork, wax supplies, and courses on the new website.
Get the remainder of the online courses live, and try to help as many people get as creative with this wonderful stuff as I can! I recall the frustration of not being able to find information on how to use this medium only too well, so I'm planning to help others, by sharing all that I've learned over the past few years.
Originally, I started with the intention to help people in the UK who couldn't travel to me, but it turned out I've helped people around the world to take their first steps with wax, I hadn't really expected that, but it's a wonderful feeling to know I've helped, even in just a tiny way.
Once I've got the online part up and running, I'll be looking to run more in-person workshops and open days, starting in the Spring, so keep your eyes peeled if that's something that interests you.
So, if you have that little niggle telling you to slow down, enjoy life, have fun, and get creative, don't be like me last year, and ignore it, it's so important to take that time for yourself, don't do what I did, and be taught to slow down the hard way!

In case you're looking for inspiration, and you've been on the fence, here's some feedback from somebody who recently completed my online painting with an iron course:
"I am very eager to get started again, I so enjoyed your last course, I followed and learned a lot from it, and I will send feedback (on your Facebook page) as I believe it is very important to let others know." K Antinoro.
I can't tell you how happy it makes me to receive feedback like that!
If you're having trouble finding supplies, you can now order directly through my website.
Anyhow, it's good to look back, I'm excited for my 2019 plans and for this next chapter in my new 'Arty Heaven' studio.  Knowing that I'm helping others, by sharing my art, my knowledge and my studio space puts the biggest of grins on my face! I hope to see you somewhere along the line this New Year.
All the best,
Julie. x