How to Paint with Wax… When you don't have the proper kit…
This lock down is making us inventive… It reminds me a bit of being a kid in the 70's… when we used to go outside and make our own entertainment, with whatever materials we could find…
An old pram would be transformed into the best go cart you could imagine…
A piece of wood could be turned into any number of projects… some more successful than others!
So too now…
This period of lock down is…
a) giving us the time to be creative, come up with improvisations where we don't have a perfect ingredient, forcing us to come up with new, and creative ideas.
b)  helping us to re-use the resources we have.  Personally we've had some quite fun results.  They haven't all worked, but we've enjoyed the experimentation nonetheless.
If you're looking for ideas on how to get creative with wax, when you don't have the proper kit.
I am sharing three videos…
Setting up a mini studio space at home.
How to do encaustic painting using a crayola crayon, an old beeswax candle, and a travel iron.
How to mix oil paints with wax candles to create your own wax paints.
!! PLEASE NOTE !!
These videos are only a suggestion to get you started… use them as a play tool to see if you
a) enjoy painting with wax
b) as a method of wax painting whilst you can't get hold of supplies during lock down.
These results are not archival.
Be careful of health & safety.
They are not designed to replace proper encaustic practice!  They are designed to spark ideas and to have fun with wax.
Go to https://arty-heaven.teachable.com/ and see my online courses for proper instruction.
Have fun! ???✨
There are also some photographs of a mock up mini hotplate in the garden, created with an old piece of metal I found in the skip, some bricks, and tea light candles at the bottom of this blog…
Have fun, experiment, and let me know what creative ideas you come up with!
Don't forget, don't use tools for food use after using them for wax painting.
Make shift hotplate!  Not the best results, but I proved it worked, and would have persevered more if I didn't have a perfectly functional hotplate to use inside… might give you some ideas though…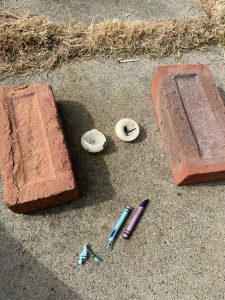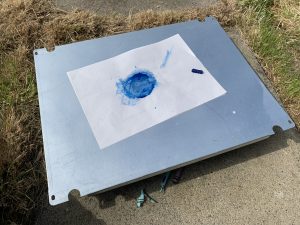 Experiments like this would have helped me make the decision that yes, I want to continue with wax painting, or no, it's not for me….
I hope this post sparks some ideas, and you find it useful… and fun…!
To learn how to paint with wax, with archival, long lasting results, check out my online courses here.