New Paintings, Exhibitions and Books…!
There's a lot happening at the moment, so I've wrapped three of my current updates into one blog…. Read on for the full run down… and I hope you'll come and join me for some wax and colour…!
I had a great day at our new exhibition at The Marlowes Shopping Centre, in Hemel Hempstead, Hertfordshire, when I was there on Sunday, I met some really interesting people, and it was so good to be able to talk about our art, and chat with visitors once again.
It's a really safe, spacious area, there's no crowding, and it's a welcoming, easy to access location.
I took some photos and did a short blog about it, which you can read here: https://artyheaven.com/dacorum-art-exhibition/
If you're in the area, do go in and take a look, there's some really fabulous work there. It's open every Friday – Sunday, plus some additional weekdays for workshops, see full opening times here. 

(When you go, I recommend using the second car park, near the sports direct end of the shopping centre, they've been doing maintenance on both sets of lifts in the first car park, with only one lift out of four working last time I was there, the second car park lift service has been seamless every time so far, fingers crossed for you too!)

You may remember that I'd been writing an Encaustic Wax Workshop for d4daisy books last year.  It's an introduction to painting with wax and dammar, including how to fuse, add, indent and inlay colours in a variety of ways, with some fabulous photos… (A peek of a couple below)
Well, I heard the news this week, the book is finally with the printers!    I wrote the workshop at the start of last year, just before everything came to a standstill, you can read about it all here:  https://artyheaven.com/encaustic-wax-workshop-for-maggie-greys-wow-books/
It should be printed and in my hands in about two weeks!
Would you like to be one of the first to get a copy?
I will have FIVE extra books available, they are £25 each + P&P… I will sign and send to you making sure you are amongst the first to receive a copy…  (The book contains a number of different workshops in a variety of different art forms)
Just e-mail me: julie@artyheaven.com saying you want one of those five copies, and we'll arrange details.
Finally, our Bloomz Art Exhibition at the weekend was BRILLIANT! 

We ran three shows across two days, and I lost count of how many people visited my 'studio' and chatted….  There were countless cups of tea, glasses of fizz and snacks consumed… virtually over Zoom… as we all discussed art together, had some beautiful conversations, a total feel good factor weekend…  If you ever visited my art studios in the past, for workshops, or open days, the vibe was very much like that… I'd missed it…!
For a more detailed run down, and to see the art on display, click here.
Next Show is in September, you can register for your tickets now…
Go straight to the ticket page here.
No matter where you are in the world, you can join in on the fun on this one.  
We had a test run of the tech on Saturday…   We use Zoom in a different way to how most people use it….  Check out the video below for a demonstration of how we run our exhibitions via break out rooms…  then make sure you get your tickets, and come chat all things encaustic wax art with me, plus a host of extra inspiration from the other artists around the globe!

https://artyheaven.com/the-bloomz-18th-19th-june-2021/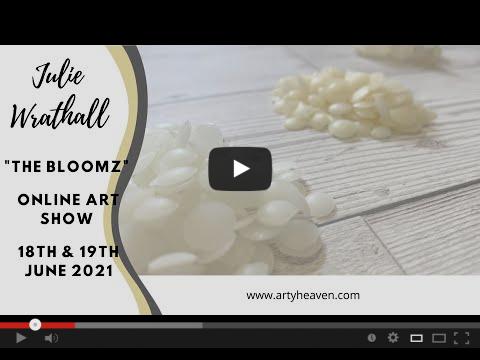 We look forward to welcoming you…!
Yikes, that was a long one… but, there's a lot going on!  I hope to hear from you, or see you at one of our events soon.
Until next time,
Julie. x