Wanna see my latest artwork…?
In November last year, I was contacted by a lady who wanted some commissioned pieces of artwork for her walls.  I take on a handful of commissions each year, and love nothing more than co-creating a piece for somebody.   I was particularly excited at the prospect of the colours and format of this one, so we set about hatching a plan.
Emily effectively had one big 'blank canvas' wall, that she was having trouble working out what artwork to hang in there, so we started creating some colours and sizes that would work.  We worked together, and I sent regular updates to check that the progress I was making was in keeping with what she had pictured in her mind.
It's oddly nerve-wracking sending those updates off…  Will she like them…? Won't she like them…? Have I understood what's been asked for correctly…?   
Getting the 'PING' back saying "THEY ARE AMAZING" had me hopping up and down, with my own little happy dance! (It's okay, no one was watching!)

The artwork of the largest one in the middle was just under 60cm x 60cm, with the plan to have the two either side in a landscape format, slightly smaller than the central one.   
Once they were framed, and all lined up to the correct level, so the sea ran across all three at the same height, they really came into their own.  
I was really happy with them, and even my children, who normally just give a nonchalant teenage shrug, both commented on the fact they looked 'pretty alright' – high praise indeed! 😉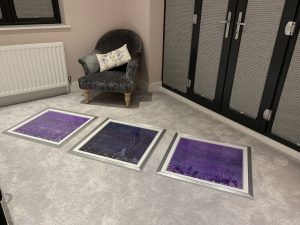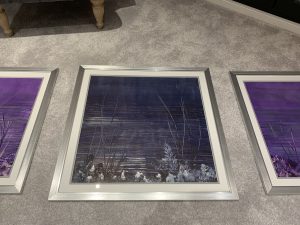 (It was really difficult to take a picture of them once they were framed, I just couldn't get them to fit in the frame of the camera anymore!)
Emily sent me some photographs of them hanging, for me to share on here.   
Her parting words were…
"Thanks for all your work on these!  They make a massive difference to the room and look brilliant.  They just look fab!"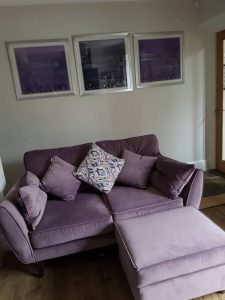 If I can help you by creating something similar, do get in touch.  My rates are very reasonable, with commissioned artwork of this size and style, working together on design and colours, start at £450 each, plus framing.  Shipping options vary by country.
Emily chose three pictures as she had a large wall to fill, but one, or two, pictures would work equally as well on smaller walls. 
Feel free to contact me:  julie@artyheaven.com  to start the conversation, or check and see if there's something already created which would be perfect for you, on my Art Page.