Hiro Yokose Encaustic Repair – Lisbon…
I wanted to share a little about my travels to Lisbon last week, to repair an encaustic painting…
A few months ago, I was contacted by a gentleman, who asked me if I could do anything with his Hiro Yokose piece of art that had seen better days. You may recall I repaired two of them a few years ago, which gave me more than a few sleepless nights…! (You can read about them here)
This particular encaustic painting, which was even bigger than the previous two, had fallen victim to a birthday gift that backfired… a bow and arrow with a suction cup! The giant encaustic painting had a circle where the suction cup hit, right in the middle of the canvas.   As a Mum of two very lively boys, I couldn't help but chuckle, as I reminisced over some similar instances with our two; damage to tv's and family items of value when they were at a similar age…!!
After quite a lot of communication back and forth, I set out from Luton Airport last Monday. In an attempt to keep travel costs to a minimum, I'd crammed everything into my carry-on luggage… which made for an interesting experience going through security with a heat gun and various pointy art tools… I received a lot of very enquiring questions, and got scanned by every machine possible, but thankfully made it through without any equipment getting confiscated!!
The hole in the centre of the painting wasn't the only challenge… the edges of the artwork had also suffered damage due to the framing choice. The frame was just too close to the painting, and over time, it had caused distress to the edges, so whilst I was there, I put some attention to those areas, and also buffed the wax back up to a beautiful shine to restore the painting to its former glory.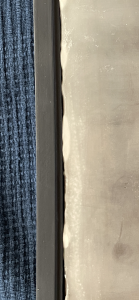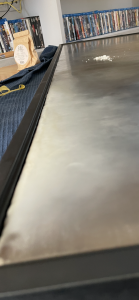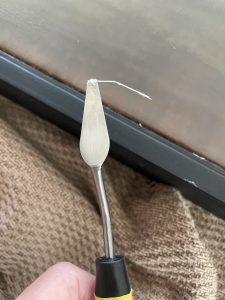 Like before, the process was anything but straightforward. The painting reacted in exactly the same way to the previous two, with the surface moving as I heated it, and turning completely white, so you are working blind until the wax has cooled and solidified enough to see if further work is required… (see the video, and photos below…) some areas were repaired immediately, others I had to rework, seven, eight, nine times or more, to get the finished piece to look right…  Immensely frustrating whilst it's not going right, but an utterly triumphant feeling when it comes together!!
Three days passed in the blink of an eye, I was in seventh heaven nursing the worse for wear painting back to life… the owner was delighted as he'd really thought it was unrepairable… he was super happy with the finish, and said it looked better than ever before!
They looked after me really well too, aside from the delicious food they provided, they encouraged me to take breaks, and go out for walks and to explore the local area. As I was working on the floor due to the size of the painting, my knees and back were very grateful for the regular breaks! What a stunning area, it was a short walk to the region of Belém with some amazing architecture, museums, gardens and views of the sunset, and the weather was just perfect.
The second night I went into the centre of Lisbon, ate Portuguese food and explored the local area, I loved the trams and the general ambience of the place, everyone was super friendly, I will definitely be going back to explore some more!
The final night the owners took me to a gallery opening, showed me some amazing arty spots that they hang out in, and then took me out for dinner. Looking at the menu, I didn't know where to start, so they ordered lots of dishes that I wouldn't have ordinarily chosen… they were all delicious…! I am so grateful to have been able to help them with my encaustic skills, and for their hospitality whilst I was with them…
I finished the final last buffing and tweaking to the encaustic painting the morning I left, and departed for the airport, feeling inspired and happy at what had unfolded… these kinds of projects always give you a few sleepless nights, it's impossible not to wind it all over in your head, and wonder if it is possible, the added complication of being in another country, and not having xyz piece of kit to hand being one of the most concerning… Anyhow, as I headed for the airport, I couldn't have been happier with how it went… But this trip brought me so much more than another encaustic art restoration project; aside from totally falling in love with Lisbon, the experience also reinforced the notion that art brings people together, regardless of language, location, the unknown… It was an enriching experience, and for that, I'm truly grateful.
There are more photos and a video of the painting repair below…
To see photos of my adventures around Lisbon.. go to my Facebook or Instagram pages…
If you have an encaustic painting you would like repaired, check out my 'Encaustic Repairs' online course or drop me an e-mail: julie@artyheaven.com to discuss further.