The Bloomz Arthouse International Online Art Show 2023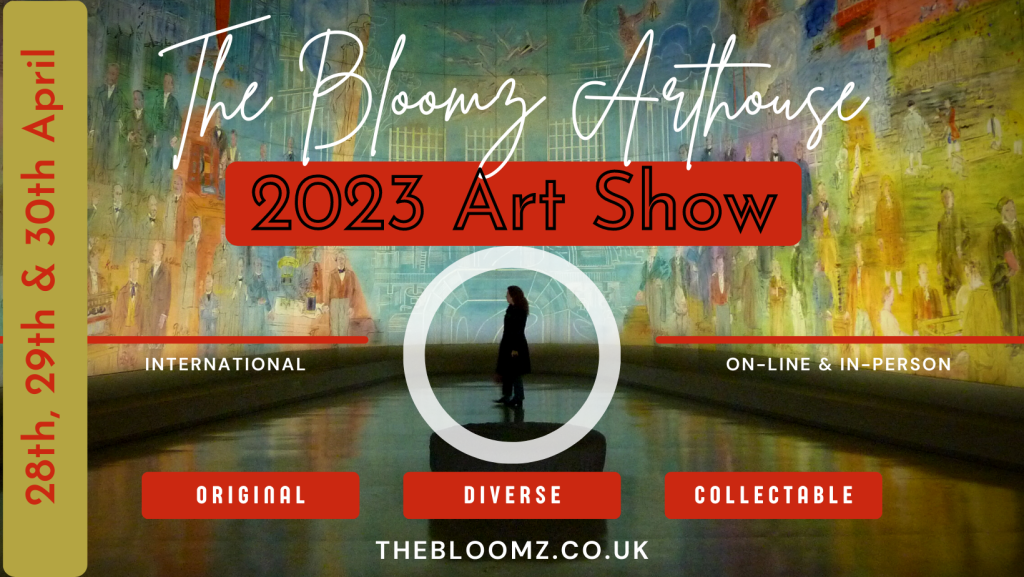 It's BACK!!!
28th – 30th April
Our Annual Bloomz Online Art Show…  This year we have Eleven Artists… Four shows over three days…
If you have visited our show before, this will need no further explanation, go straight here to get your ticket, and we look forward to seeing you at the show!!
Need to know more about it?
Basically, you travel around the globe, from the comfort of your armchair, and enjoy a couple hours of inspiration and entertainment…
It's free to attend…
It's a fun, interactive event, packed with original art, covering a wide variety of genres, and mediums… think Open Studios, but online.
This is NOT your typical Zoom meeting, you will be greeted by Steve in reception as you arrive, who will explain everything, how to navigate around the show if you're not sure, and direct you to all of the artists.
All eleven artists will be sitting in our own 'Individual Art Rooms' for you to float around the show and chat to as many, or as few, of us at your leisure.  The technology is absolutely fabulous, and I haven't experienced anything like it on the internet to date.
It could be just you and me in the room, or there could be half a dozen of us, it just depends who's there at what times and which artists our visitors have chosen to see.   As you move around the show, you can see the guest names, and which rooms they are in, so you can choose to go to a busy room and lurk in the background, or a room with no visitors, and have the opportunity to chat directly with an artist in more depth.
It's also brilliant to visit the show with friends, don't worry about one arriving later than the other, as long as you have registered for your own tickets, they will be able to log in at their own time, see which room you are in, join you there, and then you continue around the show together… it's worked so well in previous shows, and makes for a REALLY enjoyable way to view all of the art!   It truly is Open Studios, but on a global scale, and without leaving the house!
There is an unmanned chill out room which you can move to so there are no awkward moments if you need to replenish your snacks, have a comfort break, or if you want to think about anything without being in an active room or having to leave the meeting.   We like to think we have thought of everything we can to make this the most enjoyable experience for everyone!
Also, we like to reiterate, this is not a sales pitch, there are no bombardments of e-mails, you will receive the zoom joining links and reminders for the show, after that, there is one newsletter per month, of which you can unsubscribe from at any time.
This is our way as artists, of giving an opportunity to share our passions with the world.  There is no pressure to buy, you are welcome to come and pick our brains about our work and our practices, we will be delighted to share our knowledge with you, some of the artists will also be demonstrating at the show, and many offer courses in those techniques.  So, if a piece of art, or a technique intrigues you, and you want to purchase, or book sessions, please ask!   We will be happy to arrange that with you, but there is no expectation of that, so please just help us to get our message out into the world, share our show and our work with your friends, get your tickets and join us.
We have: Landscapes, Seascapes, Animals, Florals, Figurative, Abstract, Angelic, Acrylics, Oils, Fibre Sculpture, Photography, Print, Encaustic, I've probably forgotten some too… so come and find what inspires you….
Get your tickets here now: www.thebloomz.co.uk  Upon registration, you will also receive a PDF brochure of all of the artists, make a note of your favourite artists to see ahead of the show…
Make sure you also come and speak to me in my room!  I'll be sharing my encaustic art, smartphone photography and also combining those two mediums in photo encaustic…  see my latest Cornish collection, all inspired by my recent move to the coast…