Musings of my first month on Periscope
On first hearing about Periscope, my immediate reaction was… Oh no, not ANOTHER social media platform I  really SHOULD be on, I don't consistently keep up with the ones I'm on already, I just want to paint!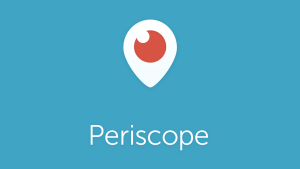 For those who don't know what Periscope is, it's a social media platform, integrated with Twitter, which allows you to live stream video to the world. Other Periscopers join your live broadcast, and text talk to you from all kinds of far flung corners of the earth.   The recording stays live on Periscope for 24 hours, then disappears, although you can save your recordings to your camera roll, or record them via Katch.me if you wish.  (Apparently, there are other similar platforms, Meerkat is another well known one, I am sticking to the one stream for now, there's only so much social I can keep up with.)
Despite my initial concerns, after being encouraged to give Periscope a go at a meeting last month, I took a deep breath and pressed that 'Broadcast' button from my studio later that day, and gave 15-20 or so people a virtual tour of my art studio… It was surprisingly easy.   Nerve-wracking… but easy.
I have found Periscope to be rather different to other social media platforms, in that, it's positivity and encouragement are endless. You get the odd troll who can't help themselves putting up an offensive comment, but they are swiftly dealt with by blocking them, and just ignored by the other people you are interacting with, they've been there and done that too.
You really feel you get to 'know' people on here.  There is a genuine desire for everybody to help each other. We are not a faceless set of words on a Twitter feed, or a Facebook page (don't get me wrong, there is still a place for those too), but watching the broadcaster to viewer, and viewer to viewer interaction is pure gold, everyone wanting to help, and pay the positivity forward.     Which brings me onto hearts.   Sharing the love.   If you like the content of the scope you are watching, you tap the screen and pretty coloured hearts float up the right of the scope, it's lovely to receive them, and rather gratifying to give them too.    It's a kind of currency, it shows that what you are offering, or viewing is being appreciated.
So, if you fancy a go at Periscope but don't know where to begin, download the app onto your phone, or iPad.  Get yourself a Twitter account.  Link it to Periscope, then just start watching and see where it takes you.   I managed it, and found my way around quite quickly, and there are always plenty of people broadcasting tips for #newbies and how to do a great scope.
Start following people who interest you, and then hit that 'Broadcast' button to share your story.   You will soon be a part of the #DreamCatchers, #BOPO Tribe (Body Positive), #TagTribe, #NapkinKin, or whatever other group shares a common interest with you.
To get you started, my top Periscopers to follow so far are…
@MelanieBundock and @AngusGrady  –  Melanie and Angus introduced us to Periscope, telling us all we MUST get onto it, their enthusiasm was contagious and I will always be grateful to them, their encouragement and scopes have introduced me to an amazing new set of 'friends'. I nearly didn't go to that meeting, I am SO PLEASED I did!   Melanie is an EFT Practitioner, she can help you achieve your Big Vision, and her meditations are amazing!   If you need anything doing on LinkedIn, or social media, Angus Grady is your man.
@D1Gibson   David Gibson #Dreamcatchers  –  I always say this guy is like motivation boot-camp, I get exhausted just listening to him at times, but his messages are inspirational, if his scopes don't get you motivated nothing will!!   I had tweeted him after a scope, and the next thing I knew, he was featuring my story as one of his first #DreamCatchers of the week. I was bowled over that he was showing my website and my art live on his scope, as inspiration for others when following your dreams.  He's a pretty top bloke.  I try and tune into as many scopes of his as I can, really worth a follow.
@DickieArmour – You can't help but like this guy, he's based in Bristol, fab content, introduced me to Grant Cardone and 10X-ing your life… Check him out, he'll tell his story far better than I will…   He's great fun and he'll remind you regularly that "You have a TV Station in your pocket baby!" and you should "Use it!"
@NapkinDad – Marty Coleman – Marty was the first artist I came across on Periscope, he scopes twice a day and does a guess the phrase, or shares his musings on a subject, whilst drawing on napkins of all things!   Some very thought provoking subjects, and shares great insight on life.    Proud to be one of his NapkinKin…! ;D
@AndresAlvArt – Andres is an artist from New York, he sits, scoping his drawings and chats along the way, a very chilled out guy, sometimes does how to draw scopes, people ask him to show how to draw a foot, or a head and away he goes, very talented, great to watch.
@AnitaWingLee @MrASingh #GlobalMeditationScope  –  Wow.   This lady in nine days, created a global meditation with over 100 leaders around the world, in 11 countries. The energy that came across from these people was amazing.     I got involved, after Armit Singh, a Birmingham based artist, was scoping with Anita and talking about art as meditation, so I pushed myself outside my comfort zone, and did a wax art meditation. For me, creating art is a totally absorbing and relaxing process, so I scoped, allowing people to view me doodling, and playing with wax in my studio. No set picture to create, just to see what came out, it was all about flow for me that day. You can see my scope and pictures here.     It was such an overwhelming success that this event will run again, it was exciting to be a part of it.
@MarkShaw – He is a must follow, the information he shares is invaluable, join the #TagTribes team!
@AlieshiaCBT & @SpotlessSpaces  –  I happened to catch Spotless Spaces first ever scope; we haven't had much interaction since, but he told his story of his dyslexia, and how he got around that at a job interview presentation, by drawing key points of his proposal onto a flip chart. He won the job despite being up against many other slick candidates, and hoped to inspire other people to over come their obstacles.  It was a powerful message. (Proven, by how I remember his user name and all the details, despite not catching many of his other scopes!)  This story, and honesty, in turn, encouraged Alieshia to tell her story, about overcoming her ailments, how she had suffered with depression, and after a long journey, probably at her lowest, started singing again, which turned her life around.   She is a classically trained singer, and although can no longer hit all the high notes as she once did (her jaw would dislocate if she did – wow!), she loves singing, and now, raises money for the hospitals and organisations who help her, you can listen to her on YouTube, she has an amazing voice, and is doing a charity concert to raise funds in September, I might just go!
Periscope is full of heartening stories like this, and I think, is what makes it so special.   You remember people far more than by reading about them.   People share their stories, with refreshing honesty, which allows understanding, and a glimpse into the real person behind the camera.   It is that honesty I think, that makes this a different platform, these real life, truthful encounters build trust, and encourage you to share your story.
So, what do I do on Periscope…? I've been scoping on how to paint with beeswax, trying to raise awareness of wax painting, and of creating with any medium. Giving virtual tours of my studio, sharing books I've read and found to be helpful along my journey.   I don't have WiFi at my studio though, so that can be challenging when my data allowance for the month has been used up, so not as much live art creation as I would like, but will work on that!
Practicing my art again has turned my life around, I have changed everything about my career within the past four years to focus on something I love with a passion, and although I am working longer hours than I ever did before, I've never been happier. If I can inspire somebody through my musings to get creative and find that same joy that I get from being in my 'happy place', then that's surely got to be a good thing.   You can find me @Julie_WaxArtist  and despite my initial concerns, I can confirm, I am a Periscope convert…!
If this blog encourages you to jump on the Periscope train, I will finish up with a quick Periscope Tip for you, based on my experience…. It takes a few seconds more than you realize, before the broadcast actually ends… I anxiously played back my first scope to see what I'd done, and was horrified to view my feet marching outside to the balcony, into the fresh air, releasing a huge amount of nervous energy, swearing loudly to myself (which I don't often do) and giggling like a fool….
…. You're Welcome ;D