Oxford International Art Fair 2015 – Artists Perspective….
Wow, that has taken me a few days to get over, what an AMAZING event…. Over 6,000 visitors over three days in Oxford, 150 artists from 30 countries, exhibited in three stunning historic rooms in Oxford Town Hall.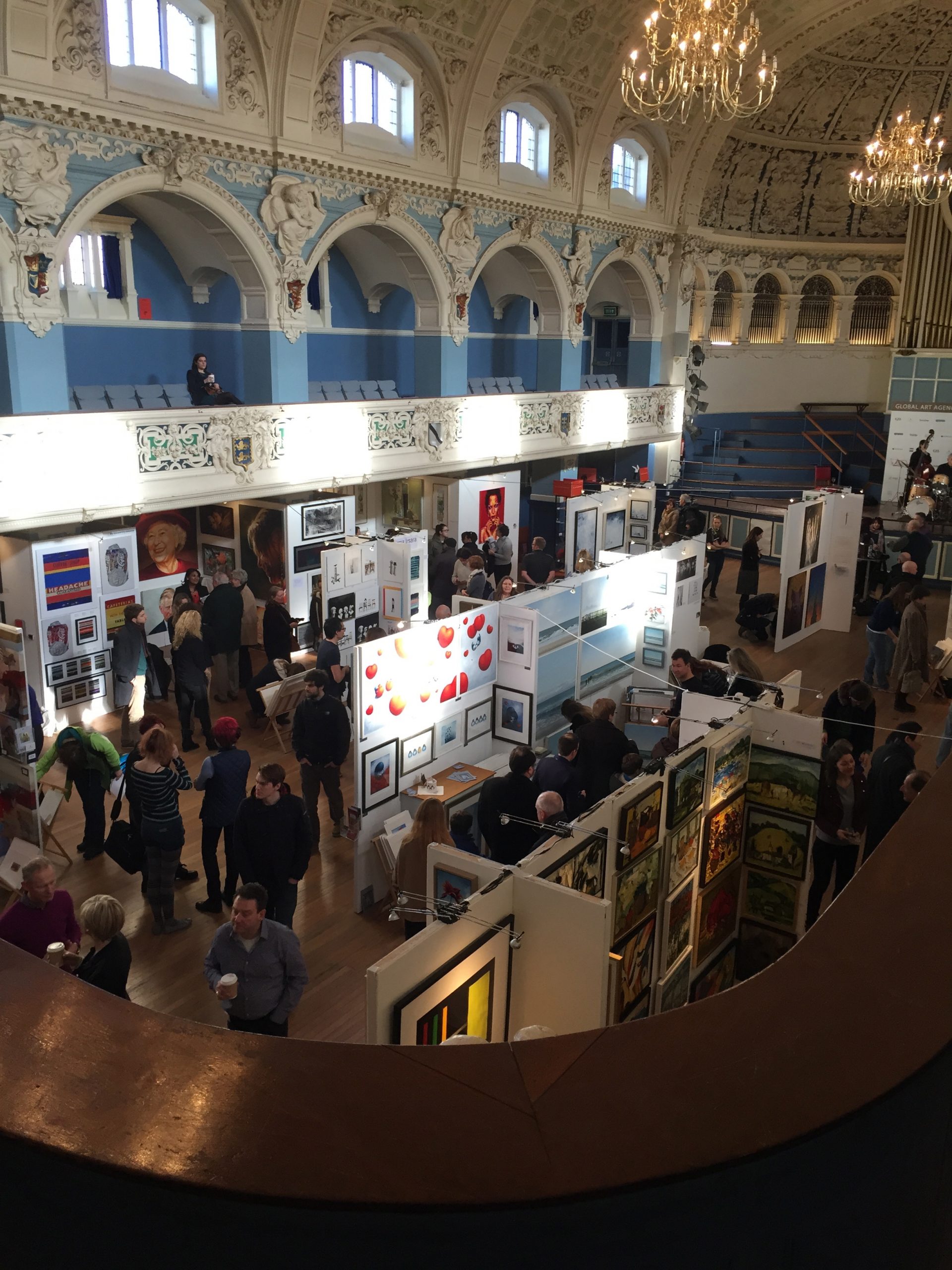 The flow of visitors was practically non-stop each day, there was more art than I had time to take in. I had hoped to get around and speak to more of the artists, but in many cases, there was no time other than a fleeting hello and a smile.
The drop off and set up on the Friday was relatively painless, if a little nerve wracking at the anticipation of the unknown weekend ahead.
The Private View and Vernissage kicked off at 6pm on the Friday and saw visitors sailing through the doors, champagne flowing and very encouraging comments from complete strangers.
One of my highlights was when a couple of ladies were searching around my stand, I asked if they were okay, said they were searching for my stand number. I had inadvertently covered the label with a picture, I hadn't considered anyone needing to see it.  On seeing my puzzled expression, they explained they wanted to vote for my blue butterfly painting, which in their view, was their favourite there… Ah, bless you ladies… That still makes me smile, and made my weekend there and then!!   Haha! Hastily moved my stand sticker to a more prominent location!
The Private View came to a close at 9pm and after a quick bite to eat with my lovely helpers Paula and Scarlett, I fell asleep almost as soon as my head hit the pillow that night. I was exhausted!
Saturday morning, I arrived at the venue just before opening at 11am, and people were queuing at the doors to get in!   It really didn't let up much at all and the constant flow of visitors continued throughout the next two days.   It did tail off a little around 4pm each day, and at that point, stopping to look around, you could see the exhibitors, who if like me, had been running on adrenaline and coffee, suddenly all looking very weary!
Encaustic wax is an unusual medium, so the techniques of my work took a lot of explaining.   People didn't realize my browser pieces were all originals, not prints.   Each encaustic piece I create is unique, no two are ever the same.   Quick re-jig of signage to highlight that helped!   There was a lot of interest in how the wax is applied, and I can immediately see ways of improving how I present my work and this information at future exhibitions.   We are always learning…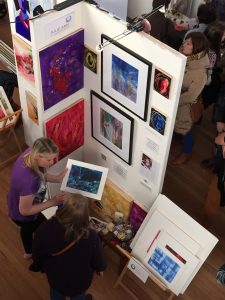 I sold a piece of work over the weekend, and had quite a few close sales, my primary aim was meet and engage with people and to get some genuine feedback on this little known medium.   I have come away with many many e-mail addresses of people interested in learning wax techniques, handed out probably a couple hundred business cards, and most of all, got some great feedback, all of which is really encouraging.    It seems that many many people, like me, do indeed love wax!
I met some amazing artists, many very kind and enthusiastic people, a few artists of particular mention are Dita, Lisa and Sabine… In addition to all being incredibly talented, they did not stop smiling, being positive and making the absolute most of the whole weekend, they were a pleasure to be around!   You can take see their work here.
Dita Omuri           Art of Dita
Lisa McGinty        www.lisamcginty.com
Sabine Barber       www.sabinebarber.com
Thanks must go to the organisers for putting on a really great event, I am delighted you came across my work and invited me to participate, and look forward to being involved in more events in the future.
Finally, particular extra special thanks must go to Paula and Scarlett who helped make the weekend go so much more smoothly for me… Paula is a friend from Hertfordshire, who is pretty handy with a drill and helped me out so much, especially in the more frantic moments, in the run up to the event! … Young Scarlett, a family member, studying art GCSE, travelled up from Devon for the weekend to get some experience of a big fair, special thanks to Mum & Dad for getting her there, she really was a star.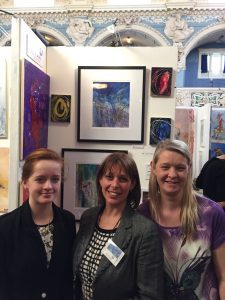 I have learnt, I have enjoyed, I have met fantastic people, I have drunk plenty of bubbly (I'm good at that!) enjoyed Oxfords architecture, eaten pasties, laughed, dealt with nerves and stretched myself out of my comfort zone… Can't wait to do it all again.
To see more, you can find lots of photographs of the event here.
Check out my workshop dates if you fancy having a go at painting with wax!   Be warned… It is seriously addictive…