Want something to look forward to?
How do you fancy having something in the diary to really look forward to in the Autumn?
Do you have somebody special, or a group of friends you'd love to get together to have a fun creative session with, all in a relaxed manner, with a cuppa, or glass of vino?
Maybe there's somebody's birthday coming up?   Or it would be great to have an early Christmas get together booked up?   (Sorry to mention that word so early in the year!)
It's a beautiful Mum and Daughter activity, or even a family quality time get together, teenage boys and Grandads have totally enjoyed it too!   The sessions are short, just a two-hour taster session, just to give it a try.  (There will be follow up workshop sessions if you want to go deeper next year, or my online course if you're raring to get going straight away.)
They are designed to be low cost, fun, organised chaos, with a glass of vino, or a soft drink, and not worry about the outcome of what you create.   They are held at my studio near Sarratt / Chanders Cross area in Hertfordshire.  There are a plethora of pubs and restaurants nearby, and designed to finish at a time that still allows you to go for a meal at Prime Steak, just down the road, or The Grove, or the nearby pub for a game of darts, whatever takes your fancy to make an evening of it!
Some of the people who did a session recently have booked in for a more in-depth workshop, testimony in itself!
There are only a handful of dates available for these this year, and some have gone already.
Book now to bag your date, and spend some quality time with those special people in your life.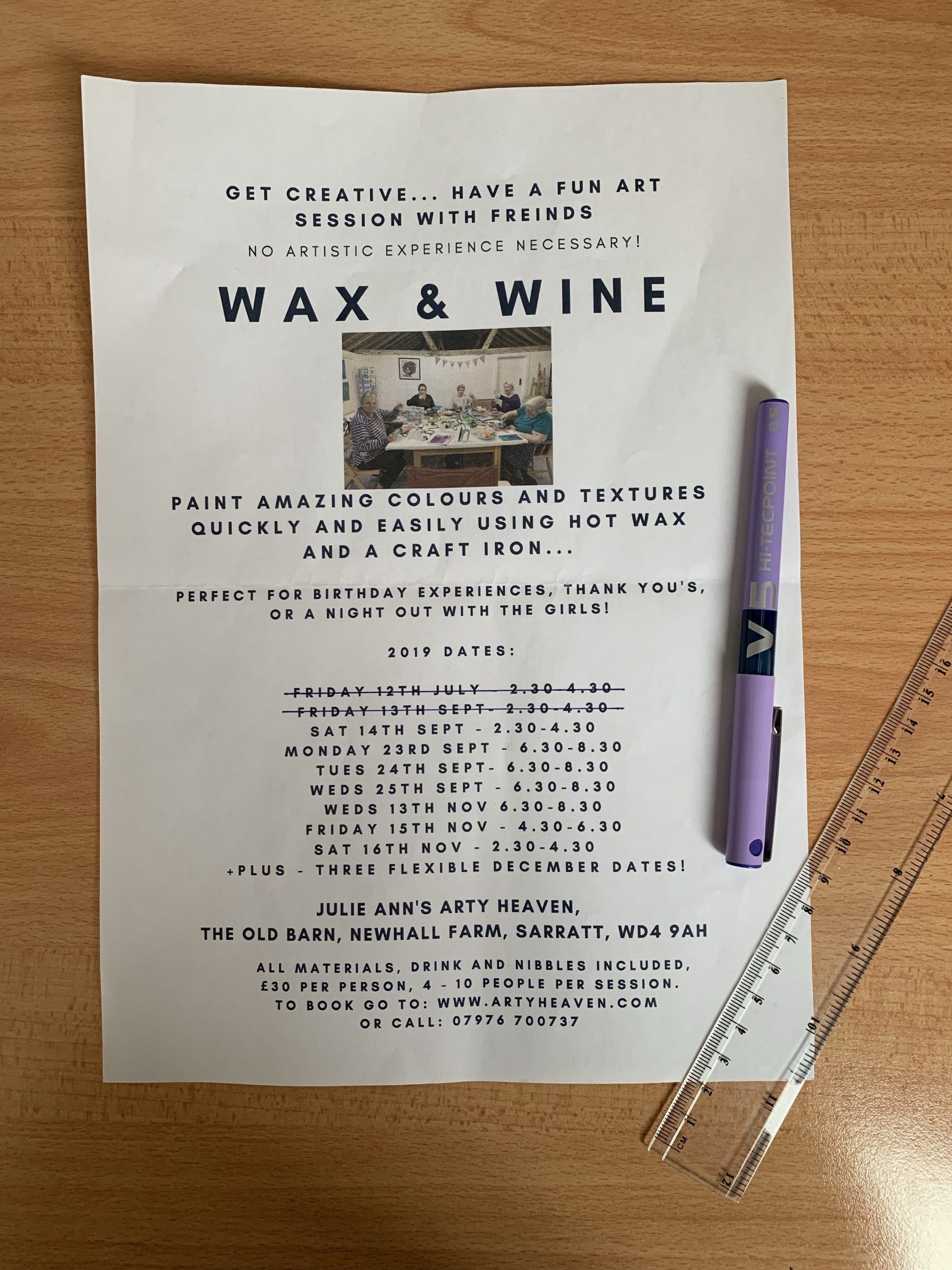 The sessions are set at £120 on the website, which is for four people at £30 each, this will book your date and mark it as unavailable to anyone else on my website.   

If you want to add extra people, that's fine, I can accommodate eight comfortably, ten with a slight mish-mash of chairs and tables to add to the fun!   

I will get in touch via e-mail upon receipt of the booking to confirm if there's a special occasion, or to add any extras, and you can pay any balance via Paypal or BAC's, cash or cheque.

If you want to do a session with less people, that's fine, you will just get extra tuition from me.  

If you want to do a session on your own, we can do that, to do it on any of these dates, the cost will be £120, and book through the website.

Or, come and join me on an open day. £30 to just try it out, or £45 with more tuition.  Message me to book in for one of these.  

Please forward this onto anyone you think may be interested.  It really is the most therapeutic fun!
To show your friends and family what it's all about, check out my YouTube Channel, (don't forget to subscribe whilst you're there!) there is a Painting with an Iron video here to start you off with.
Go here to view the remaining dates, and to book yours in now.
Any questions?  Just e-mail me at:  julie@artyheaven.com and ask away.
I look forward to hearing from you,
Julie.