How to use Gelli Plating with Encaustic
This blog shares when Samantha Packer spent the day with me in my studio, we had an amazingly fun day, and shared some pictures and videos on social media, which led to sooooo many questions, so we decided we'd link the information and products used up into a blog for you!
Sam's interest predominantly lies in pattern, imagery and shape and she has an extensive background of working in textiles and mixed media, which she has more recently started translating into encaustic, with some stunning effects.
Here is the video of her gelli plating, which raised so many questions.  There are more images at the very end of this blog.
Sam has spent many years reviewing books, products and exhibitions, you can find out more about her work here.
The book shown on the video 'Cut, Shape, Stitch' which she co-wrote with Maggie Grey and Paula Watkins, is available to buy through D4daisy books, or you can purchase directly from Sam. Just drop her an e-mail.  sam.packer@gmail.com  £15 plus postage.  It is a beautiful book, it doesn't contain encaustic work, but it is beautifully inspiring!
Anyhow, products used in the video:
Gelli Plate with paint roller – Widely available on Amazon, etc, or there are plenty of recipes on line on how to make your own.
Tea Bag Paper – Yes, as in the kind of paper used to make tea bags!  Depending how much you think you'll use, you can buy it from art shops, in 25cm squares, or google and order it online.  However, beware, it can be purchased on a long jumbo roll, which took Sam quite by surprise when it turned up at her door… A lifetime supply! 😉
Abaca Tissue – (also called Tissuetex) is a tissue-like paper which has tremendous wet-strength and can be painted or dyed without disintegrating and stitched into for experimental embroidery and mixed-media. It is lightweight and semi-transparent.  Available from art stores.
Lens Tissue – A bit like tea bag paper, but without the holes. Not as widely available, but you can buy in some art stores. (Art Van Go stock it.)
Copy Paper – As in the paper you use in your printer, the cheapest, lowest gsm paper you can find.
Acrylic Paints – Yes, we know encaustic isn't supposed to mix with acrylic, but the amount of acrylic paint used in this technique is minimal, and the main structure is through the paper, which is totally stable in the way we have gone on to use it with the encaustic.
Watercolour Inks – For those who don't want to use acrylic paint, this gelli plate technique also works with these encaustic compatible inks.  We were using Spectrum Noir Inks, but Ecoline inks are also very good.
Stencils, shop bought or homemade.
Method:
Print your choice of paper with chosen colours and designs, and allow time for them to dry. (Watch the video above for instructions on how to do the printing.)
Take your encaustic support, add and fuse two layers of encaustic medium.
Add your printed tea bag, abaca, or lens tissue paper on top, (you can use other papers, these are just the ones we were using, experiment, and find what works best for you) the wax will be taken up by the absorbency of these papers.  Fuse.
Add another layer of encaustic medium.  You will still see the colour, pattern and print through the layers of wax.  Finish off with your usual encaustic techniques, pan pastels etc. if desired.
For prints made onto the thicker copier paper, image transfer, by placing the image upside down on a prepared board.  Wet the back of the paper, and gently rub to remove the paper, leaving the image behind.  Fuse gently, and continue with subsequent layers as normal.
I hope you find this inspiring, and gives you some ideas to try in your own practice.  There are more photographs below.
Sam was due to be one of the guest tutors on my  VIP Art Retreat Weeks, this video didn't even begin to cover the boxes of tricks she brought along with her!  A very inspiring lady.
Sadly, the Art Retreat Weeks didn't go ahead due to lockdowns, and I've since moved out of my studio, but for more encaustic inspiration, check out my online courses  or book a 1-1 Video call with me.
Keep waxing and let us know if you found this information helpful.  If you did, please share!
All the best, Julie.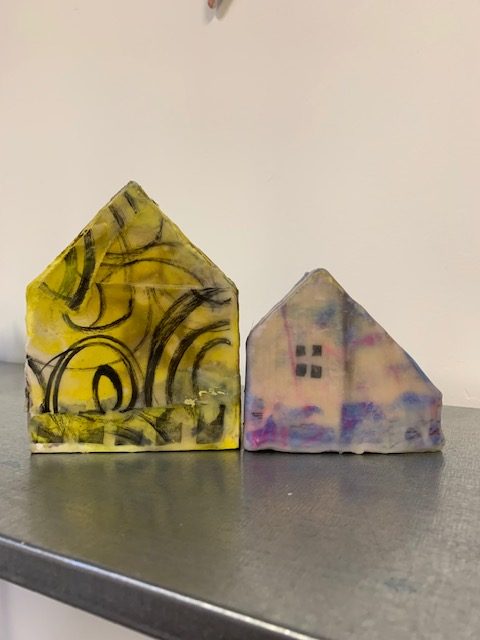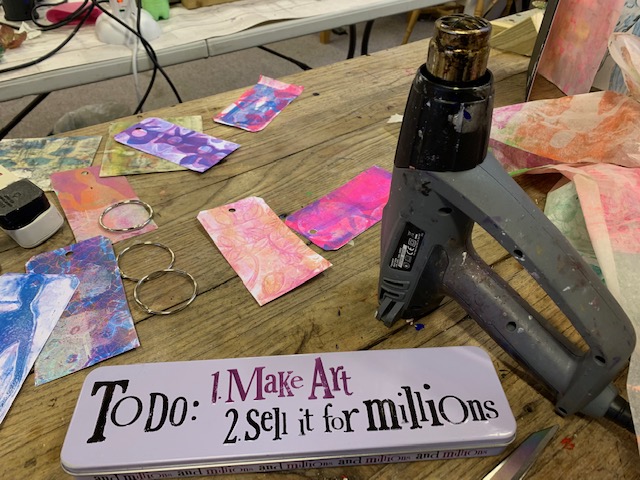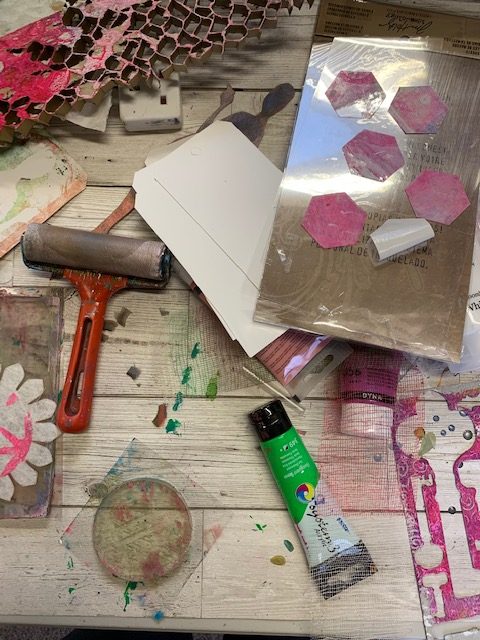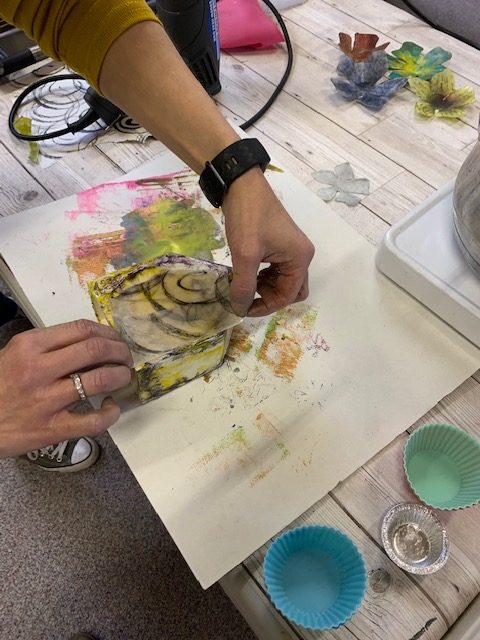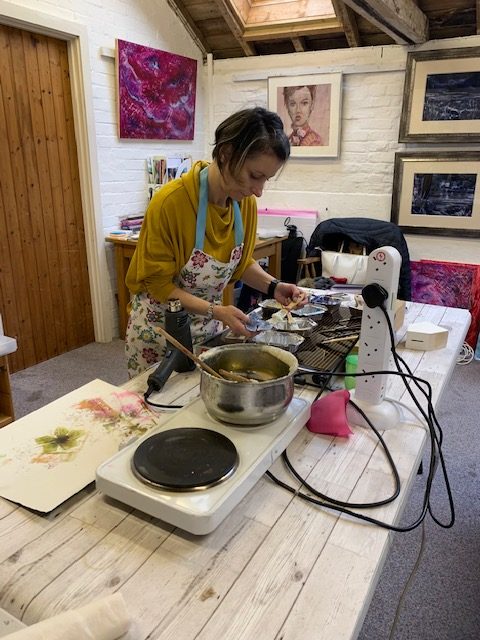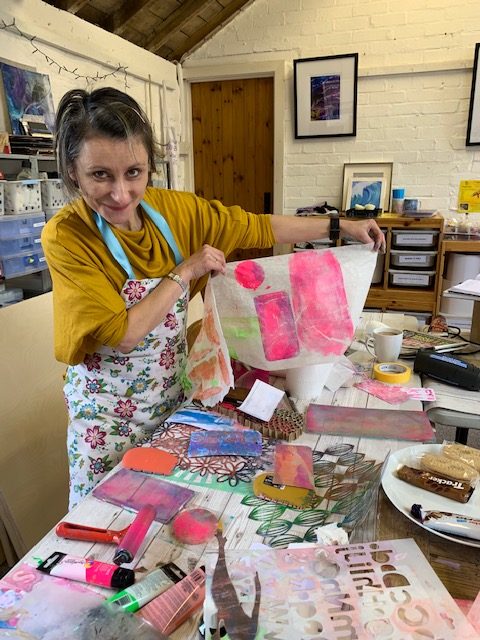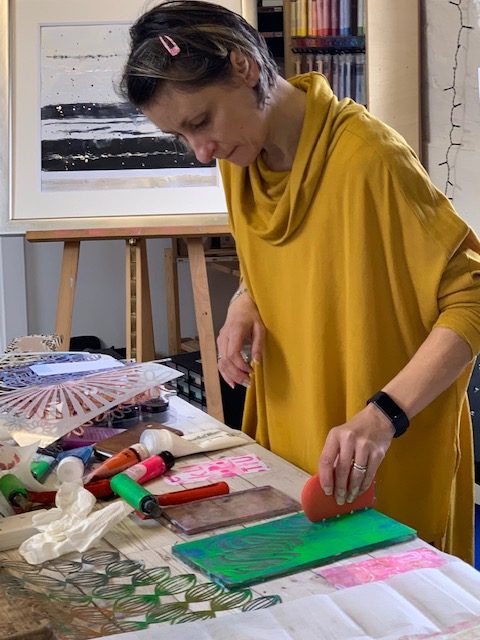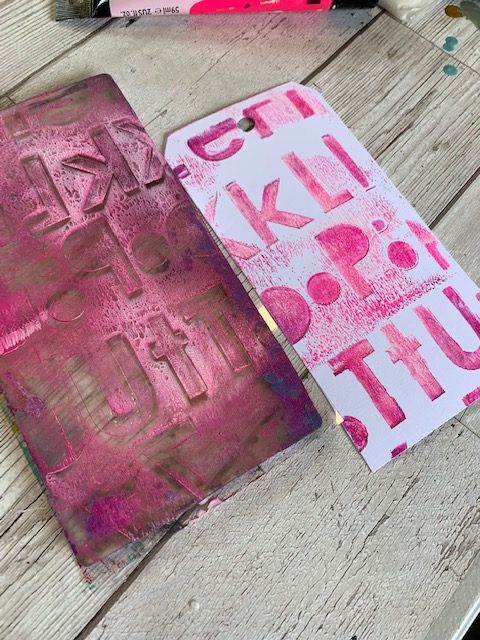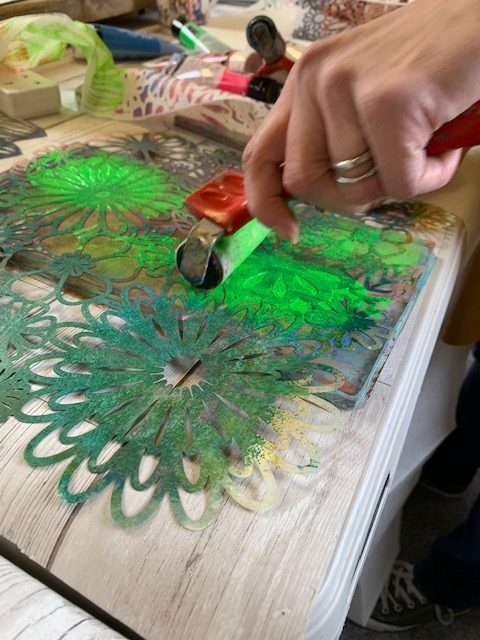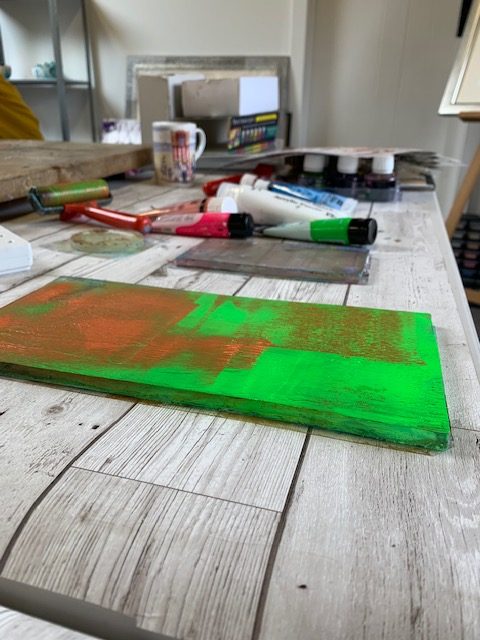 For more images, head over to my Instagram, or Facebook Pages…  🙂
(As an Amazon Associate I earn from qualifying purchases, at no extra cost to you.)