I've moved back to Cornwall…!
It's been a while since I've shared any regular blogs… so, I figured it was time to fill you in on the last few months, which at times have felt like being in a washing machine on fast spin…!
If you're on my newsletter, you will already know, at the end of August, we moved out of our home of almost 30 years, packed up and moved to Cornwall (having finally finished our renovations! *eye roll*)
We'd had our house up for sale for a year, a series of events meant it didn't come about… After putting all aspects of life on hold, we rented the property, which came about in less than a month, and from contracts being signed, we had ten days to pack everything and leave the house unfurnished… mental… but we did it…!!
We'd been been living between Hertfordshire and Cornwall for a couple of months whist we finalised everything.
(For my overseas friends, Hertfordshire is NW of London, one of the most land locked counties in the UK… Cornwall being on the coast, down in SW of England, around 250 miles away, with farm land, rolling waves and wind of the Atlantic Ocean on the doorstep, just beautiful!)
For those of you who don't know, I grew up in Cornwall, between Bude and Boscastle, it's always where I class as 'home'… but having lived in Hertfordshire for 30+ years, I had a bit of a detour… (I only went up for a weekend…  but that's another story!!)
Anyhow, the dust is beginning to settle, we are working out our next steps, new opportunities have already started to arise, I'm excited and twitching again to get back into the artsy life…
I shared more about what's been happening with my move, upcoming plans, and some of the inspiration behind my art on an interview, with Mac McGregor over on The Bloomz Arthouse before Christmas.
2023 is here now, I'm ready to get some creativity and routine back into my life…  I'm still seeking out studio spaces, and longer term plans, but I can't fail to be inspired with views like this on my doorstep.
**FEBRUARY 2023 UPDATE**
I have now found a couple of art studios in Bude that I can use for small groups!!  So, to arrange your own creative encaustic session, go here.
Additionally, I am proud to have teamed up with Jet Black Squares, and now offering Smartphone Photography Sessions in Cornwall, (and soon virtually too!)… Go here to book onto a session, and to Instagram / Facebook to follow my photography!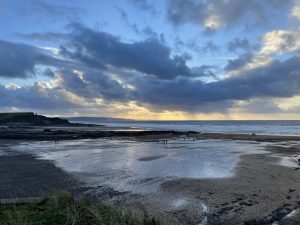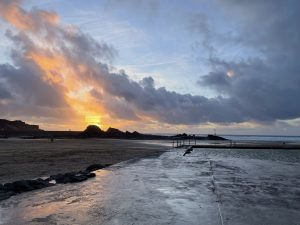 I'm still actively looking into the art scene, galleries, etc. so please reach out, or put me in touch with any Cornwall contacts you may have!
Huge thanks to each and every one of you who have hung about with me on this artistic and crazy life journey over the past ten plus years…
I'm still convinced my Arty Heaven Retreat Centre will work in somewhere along the line… Here's to this next chapter!
Julie. x