3D Scanned Images of Fayum Encaustic Panels
Have you heard of Egyptian Mummy's…?    Erm… yes…. hasn't everybody….
Well, have you heard of "The Fayum Mummy Panels"?   Maybe, maybe not….?
What if I told you that the mummy panels that were painted in this particular region of Egypt, were painted with beeswax?   Would the link become clearer then…?!
A number of years ago, when I first started painting with wax, I discovered the origins of wax painting goes back some 2,000 years, to ancient icons, and funeral portraits, painted by the Egyptians, particularly in the Fayum region.   
This ancient region is roughly 60 miles south of modern day Cairo.  There are other spellings found, Fayium, Fayoum, Fayem, Fayum, all one and the same place.
There was precious little information I could find about them at the time, and they left me thoroughly perplexed, and desperate to find out more!   There was such a lack of information about encaustic in England generally, and this elusive history was bugging me even more… (I'm a bit of a problem solver!)
A long story short, after countless hours of research and investigation, I discovered some of these Encaustic Wax Fayum Mummy Panels at the Ashmolean Museum in Oxford. 
I contacted one of the conservators there, Jevon Thistlewood, who kindly arranged to meet me, with another UK leading expert Susan Walker.  
I spent much of the day with them, and they gave me an absolutely fascinating insight into these historic Fayum panels, told me about some of the research that had been carried out to date, and the next intention to understand the panels and their materials better.   
My visit included some time in the conservation rooms, looking at these panels up close and results from 3D imaging scanners…  It was absolutely fascinating…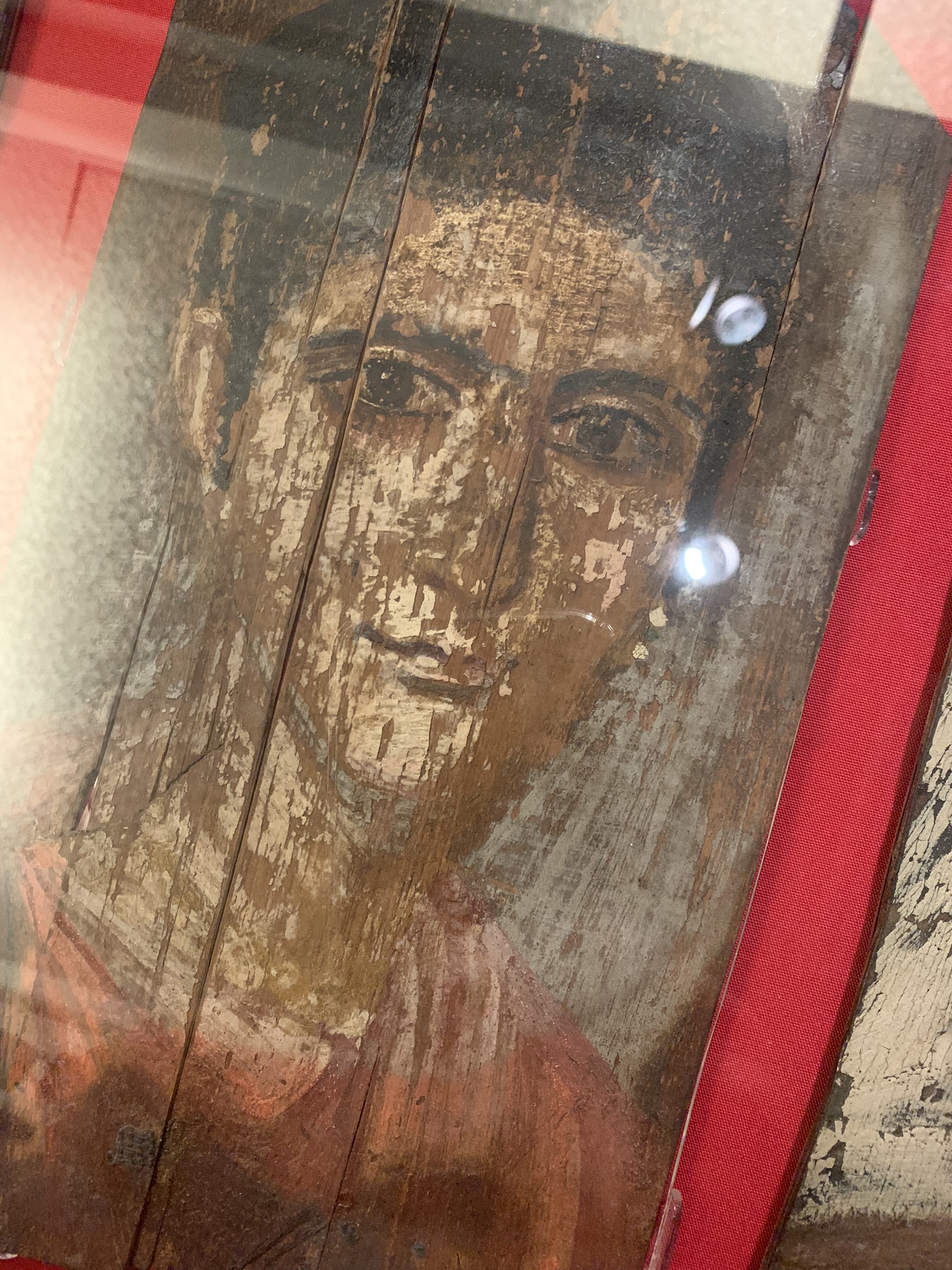 Those of you who have been on a workshop or demonstration with me, may recall me telling you about my time there…?
I have kept in touch with them on and off since then, and Jevon informed me of the APPEAR Project (Ancient Panel Paintings: Examination, Analysis, and Research) including, an exhibition called "Paint the Eyes Softer" in reference to some written instructions found on one of the panels.  There was also a two day conference, and some investigative work at The Getty Museum in the States, back at the start of 2018. 
We had a lot of family logistics going on at the time, and I was so frustrated that I couldn't get out there to see it in person!
I have been keeping a loose eye on this APPEAR Project from afar, in the knowledge that it's expected to conclude in 2021 in Amsterdam….  
Anyhow, after a recent dig around, I was delighted to discover some reports on the web, that I hadn't come across before; including photographs and videos of the Fayum Panels under those imaging scanners I had seen all those years ago at The Ashmolean Museum!  
So, I can actually point you to pictures and videos of what I saw, (my explanations are a pretty poor substitute!!)   
This first report is a great example of how those scanners portrayed the Fayum panels… http://www.getty.edu/museum/research/appear_project/
There is another great article here… https://blogs.getty.edu/iris/new-directions-for-research-on-ancient-romano-egyptian-panel-paintings/
There is an additional report here on discoveries that have been made about the materials used, which wax and dammar artists might find of interest.
 https://www.mdpi.com/2571-9408/2/3/119/htm
If you want to find out more about the investigations, there are various articles and reports to be found by searching combinations of 'Paint the Eyes Softer' / 'APPEAR' / 'Getty' I don't want to list them all here.  There are a number of articles.
Things have settled down on the home front, Amsterdam is much closer to home, and my eyes are scanning for some concrete details for 2021…!
Do let me know if you have found the information shared here interesting…   Would you like to see some Fayum encaustic panels in person? They are pretty sparse, and you really have to seek them out…
Join me for my Arty Heaven Encaustic Art Retreat Weeks in May and June 2020?
There's one for beginners, one for existing dammar based encaustic artists. 
We will be travelling to London by taxi to view some of the Fayum panels on display at The Petrie & British Museums.
Step back in time and history, and learn from the original masters.
 You can read the full details here.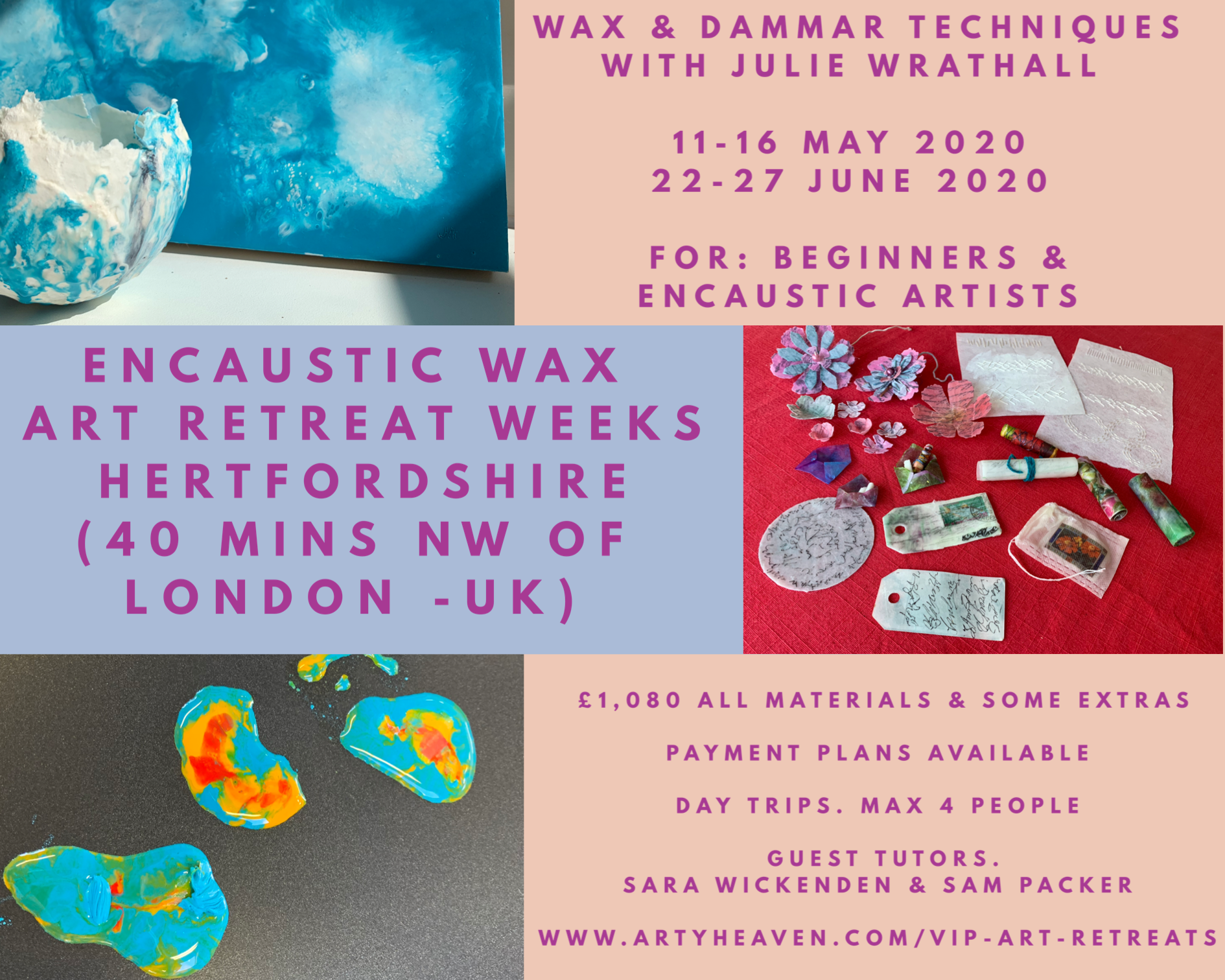 Julie Wrathall is a UK based encaustic wax artist, based in Hertfordshire.