Teaching and the quiet sound of creativity….
The thing I love most about teaching how to paint with encaustic wax is…. The quiet hush…
If you had told me five years ago, that I'd be teaching people how to paint I'd have said you were off your rocker…!
In 2012, I discovered a new medium called "Encaustic Wax"… and it captured me like no other…   You know that moment that a piece of art just stops you in your tracks… and 'speaks' to you… I knew at that moment, I had to find out how it worked….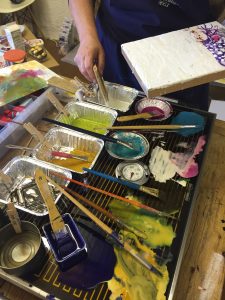 It was around that time I began doing Herts Open Studios, showing my work, just to show it, and if I sold a piece or two to cover some costs, that was a bonus.
I discovered that others seemed to be intrigued by encaustic as well… I had so much interest in the process that by the end of that Open Studio period, I put an A4 sheet of paper out, saying if anyone was interested in learning how to paint with wax to leave their details, I might run a workshop next year… I was blown away by the amount of names and addresses I was left with… and then felt obliged to do something about it…!
My first 'workshop' was in a friends kitchen, she was so enthusiastic about it, she went out and bought the kit immediately, her friend wrote me the most beautiful card to say how much she had enjoyed the afternoon too… After the initial fear of saying I would do it, I discovered that I loved teaching these skills…
Since that afternoon in my friends' kitchen, I've lost track of how many workshops, and demos I've done, but every one has a common theme…. I get very enthusiastic, sharing as much technique info as I can (normally leaving people with a glazed or astonished look!)   However, at some point during the session, once they start putting it into practice, there is a hush… A moment of quiet… where all you can hear is the sound of concentration…
This is the part I LOVE… These people have taken the information of how to apply the wax, and have lost themselves in the process of creativity… entirely.
I sit back and watch them, and smile… I get the greatest joy from seeing them so engrossed, and simply lost in their creativity…  They rarely want to stop, they look up and can't believe what time it is…!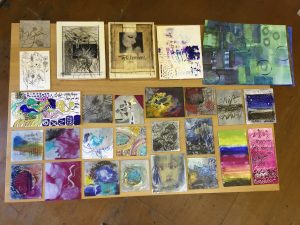 As I write this, I am watching a Norwegian lady, Lisbet, who has been with me for a week, learning 1-1 how to paint with wax…   We have covered fusing, layering, dripping, drizzling, colouring, scraping back, inlaying images, setting fire with shellac, oh my, the list goes on, I have tried to impart as many skills as I can.   We have got on like a house on fire, and I will totally miss her next week…!
Anyhow, right now, she is sitting in absolute silence, totally immersed in the process, seeing what works, and what doesn't.   That quiet hush….
Lisbet is an established artist, there are currently no encaustic courses or supplies in Norway, hence travelling to the UK to learn…. She is planning a big exhibition in the Spring, now including encaustic wax, I can't wait to hear how it goes…. You can follow and view her work here.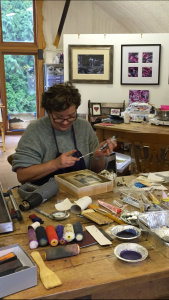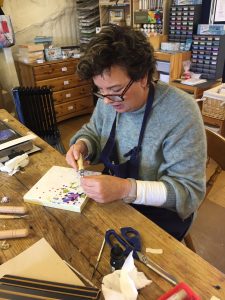 The encaustic web continues to expand into new countries….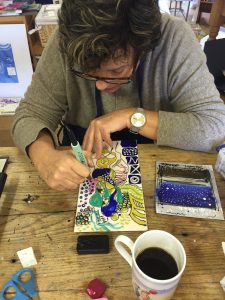 You just never know what you might be doing five years from now…!
If you are interested in learning encaustic wax techniques, check out my workshops page, or my wax and dammar course, (as above) painting with an iron, and fantasy landscape online courses.
**Update** This blog was written in 2017, I am now in a new studio in Sarratt, (studio number three actually!) but still getting all the same joys of sharing these techniques with people…. the feedback continues to be as positive as ever… we all share a common theme, of loving to learn, and loving encaustic.