The 15th Encaustic Conference – My Experience!
After sooo many years of watching The Encaustic Conference and the pre- and post- workshops every year from afar, it was such a joy to finally attend and experience it all first hand….
I am also SOOOO grateful for The Binnie Birstein Scholarship I was awarded which facilitated my experience.
After much question as to whether I could make it out there this year, (due to possible house moving etc) at the end of May 2022, I got on a last minute flight and headed for Boston!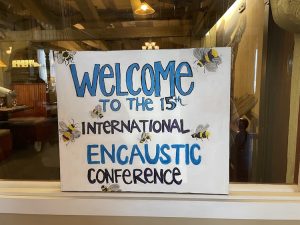 I always recall being desperate to gleen peoples experiences of the conference, and loved seeing peoples photos etc. so I decided to go live every day to talk about my experience, in my Waxy Art & Inspiration Facebook group, then created this blog, for people who don't do Facebook, sharing how I found my time away, and my top tips… which I hope might also help others considering going in the future.
I decided there was way too much to fit into one video, so I broke them down into smaller segments, and added a few photographs into the mix too…
Overview of the conference & how it all came about…  (I think there were around 160 people there… 'hundreds' might be a bit of an over exaggeration!! 😉   It certainly felt like hundreds in my excitement anyway!!)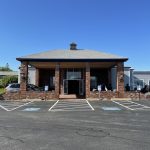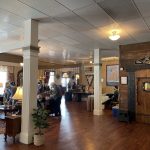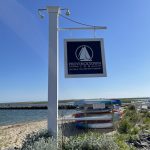 A bit more about the conference and my two day workshop with R&F founder Richard Frumess, exploring how colours really work…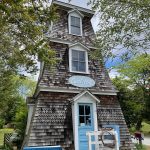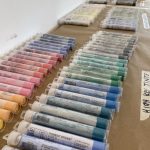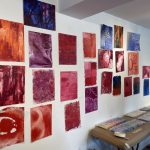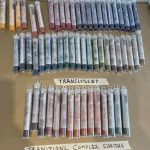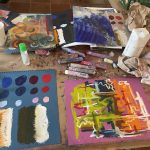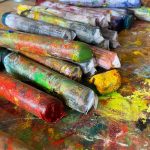 The vendor room is amazing…  Watch this video as I fire the hotplate up and play with my new goodies!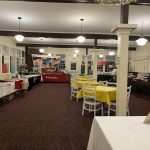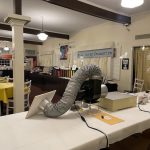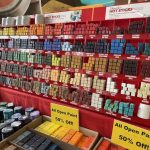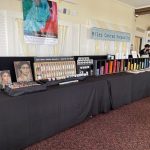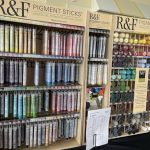 Transatlantic Fusion Project, Exhibition and Presentation…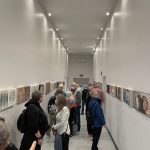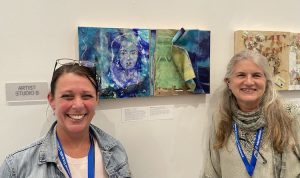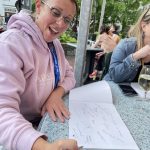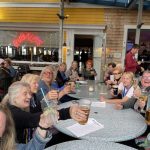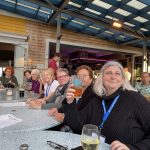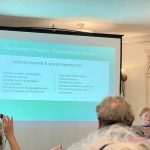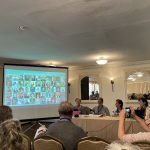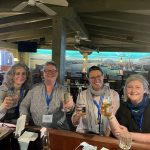 If you would like to know more, here's my blog going into more detail about the project….
The Scholarship Postcard Sale and Sunday Morning Encaustic Art Exhibition…
Scholarship Postcard Sale… Doors opened on Saturday afternoon, I love my two purchases from Hilary Hanson Bruel, and Pamela Doris Dejong.
Exhibiting in our rooms at the Sunday morning Encaustic Exhibition… representing Ireland and the UK… Encaustic artists; Anne Curran (Ireland), Isabelle Gaborit (Ireland) and myself (UK)…!   So good to see their work having admired it online for so long.  Plus a host of other artists setting up and exhibiting in the hotel lobby!
I was buzzing to see so much encaustic art, and artists with equal passion, collectively in one place, it was SO inspiring! 😀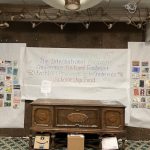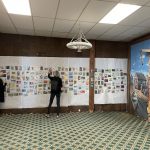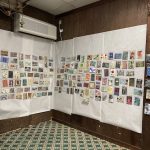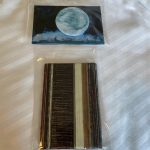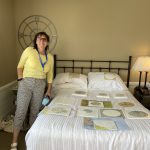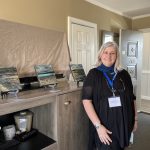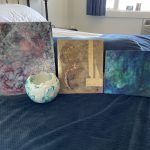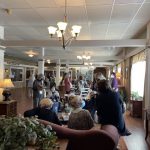 What's next…?  There is one final wrap up video below, I will also continue to go live as I put my learning into practice in my Facebook group so follow along there, or catch up later on my YouTube channel…
You can also sign up for my online courses…  Check out my latest free course Colourful Collages with Encaustic Wax here.
Here's my final wrap up video from my conference updates, including a demo using Encaustiflex, which I absolutely loved!
I hope you've enjoyed following along, please do let me know!
Julie. x