The Bloomz International Art Show – June 2021
The countdown has begun to our next Bloomz Art Exhibition on the 18th & 19th June.
Ten artists from around the globe.  Come and speak to us directly about our art, in our own individual Zoom 'Breakout Rooms'.  A super fun way to view art, speak to a range of artists, working in a variety of genres, and get inspired.   All from your own home.
I hope you'll come and visit!
Here's a review of the show we did in January….
What a weekend and fantastic Bloomz Arthouse show….  three shows over two days…
Over 70 people took up our invitation to come and view, talk about, and buy our collectable art, in our individual Zoom Studio rooms… AMAZING!
(We also had a very fun after show party; which finished at…. 1:23am…  Nice…!)
THANK YOU to everybody who came along… it was wonderful to speak with you all… you seriously made our weekend.
Working with the whole Bloomz Squad and speaking to all the visitors who joined us, for so much fun, joy and laughter…. it seriously brightened up my January, I am truly grateful.
We are doing it all again in June!
It's the first time I've pulled my work together in this way, and it was great to talk that through with so many.
I have added product links to each of the art works from the show below… I've also created two card packs, with a selection of designs from the show, all of which you can buy directly from this blog.
Before you carry on and view the art though, here are some behind the scenes photos of what it all looked like from my end…!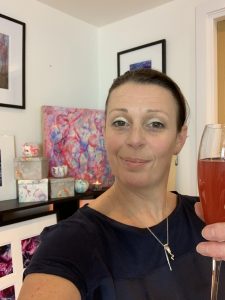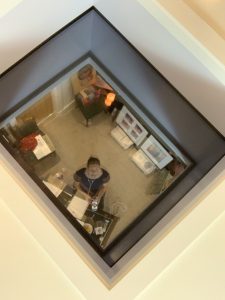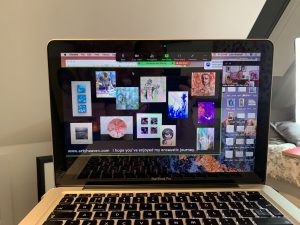 I hope you enjoy the encaustic tour.
The usual questions came up during the show, which you may well have too… so check out my FREQUENTLY ASKED QUESTIONS page, highly likely they're answered there!